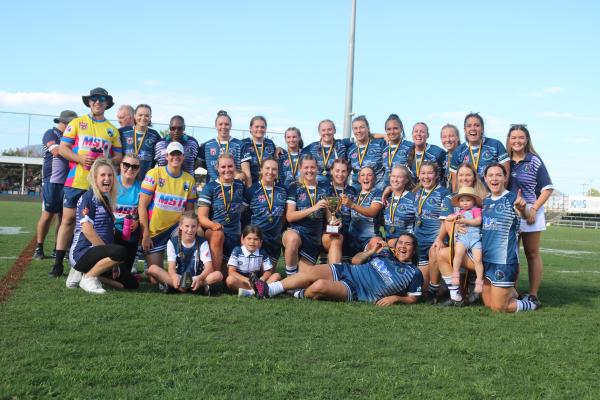 By Liam Emerton
The Rockhampton Rugby League women's competition continued to impress spectators on August 28 with a high-quality grand final taking centre stage in front of a packed Browne Park.
The match was a battle between the Emu Park Emus, who had lost just one game during the entire season, and the Rockhampton Brothers, who had been high fliers in the competition.
Brothers took the advantage early on, and never looked like stopping, scoring a breakaway try through Krystal Hardin to open the scoring.
Brothers went on to score three more tries, which included a double from Kyah Szepanowski and the final try scored by Layne Ivey.
But it was Rockhampton's goal-line defence that truly impressed, and in turn won the contest, only allowing one try from an Emu Park side known for their scoring capabilities.
Brothers ended up taking out the match quite comfortably, 20-6 in the end, and showed plenty of heart to will themselves over the line.
"I am almost lost for words, they have been unbeatable all year," said Brothers' full back Nyree Gilluey.
"They've lost one game all season, we've lost two or three against them, so we definitely came in as underdogs.
"Last week in the semi knockout we killed it the first half and lost it a bit in the second half.
"So we wanted to prove a point this week that we could keep 60 minutes straight of hard defence and just grind it out.
"They have some big forwards and we knew they would just try and run over the top of us, but we knew we just needed to grind it out through defence."
Brothers attacked mainly down the flanks where they could sling it to their quick outside backs and, with barely a dropped ball out wide, their game plan played out perfectly.
"We have some really talented girls and that's one of our best things is our fitness and speed," said Gilluey.
"We know if we can grind it out and stick with teams in the first half we've got the fitness and the speed to take out the second half.
"We knew we could do it, we just needed to put a 60-minute performance in and that's what we did."
Gilluey named some of the best players in the squad from the grand final win, attributing their brilliant defence to a great victory.
"Defensively our small girls were good. Prue Peters and Kyah Szepanowski especially.
They're both still in Year 12 at school and a lot of our smaller girls played in the forwards for us today.
"And just defensively they killed it and they were outstanding for us."