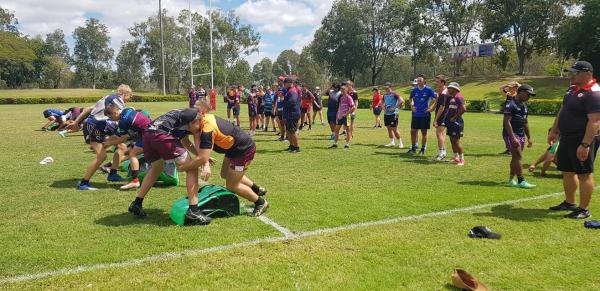 By Liam Emerton
Central Queensland Bushrangers Junior Rugby representative squads had their state championships seemingly cancelled earlier this year…but now they will get their chance to shine.
Hopefully, with the Covid situation in Brisbane under control, our local rugby boys will compete in Toowoomba from Tuesday, 21 September through to Thursday, 23 September.
Before the boys play their state championships, our under 15 and 17 girls' Central Queensland squads will take centre stage in Mackay this Friday and Saturday.
All of the six Bushrangers teams, under 12, 13, 14 and 16 boys, as well as the under 15 and 17 girls, will be looking to take out the competition after a steady improvement in recent years.
Players have been selected from all clubs around Central Queensland with plenty of Gladstone and Rockhampton players making up the bulk of the representative squads.
Central Queensland Bushrangers Under 13 coach Peter King said it was great to see the team from across the region come together.
"On Sunday we had a four or five hour training session for Bushies and we had kids coming down from Hervey Bay, Airlie Beach, an inland like Central Highlands, and Emerald all coming into Rocky just to have these four-hour training sessions," said King.
"And it's good to see that the boys have that togetherness. They all have one goal.
"I tell the boys that when we go down there we don't want to be a number down there.
"We want to show these teams that we are here to compete.
"In the past we've been hammered by 50-something points but now they're struggling to beat us. Some just managed to beat us in the dying seconds of the game.
"So we've been able to compete with those other bigger teams from Brisbane and the Gold Coast.
"It's good to see that the boys are enjoying playing together, it doesn't matter where they're coming from, but in the end they know they're representing Central Queensland."
King said these State Championships can elevate any juniors' game and give them an opportunity to make bigger squads including at national level.
"My eldest son Trevor King started playing for GRUFCs from the age of 11 and he was new to rugby union but when junior rugby union was introduced in Gladstone we thought why not," he said.
"Through the system he managed to go under 13's, under 14's Queensland Country then last year he made the Queensland Reds and this year he and Malachi [Tuakura] made the Queensland Reds under 16's.
"Also my son Trevor made it to the Australian A schoolboys team, he's only 16 but got selected into the under-18's team.
"That just shows that our program that we have here is actually working and there were only one or two kids that were making it through and now there are heaps."
With great expectations heading into the championships let's hope our local representatives impress on a big stage.