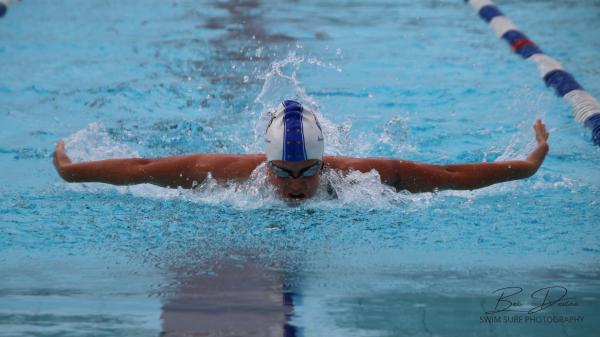 By Rebecca Devine
The Gladstone Gladiators Swimming Club hosted the Liquid Energy race meet on the weekend in what was an emotional and triumphant day.
The Gladiators took to the water in memory of Terry Fellows, an icon of swimming in Gladstone, who tragically passed away last weekend.
Remembering Terry and his legacy was a key aspect to the meet and it seemed to boost the Gladiators, who swam phenomenally throughout the day.
Gladiators head coach Tom Fronek said it was a great all-around day and a perfect way to memorialise Terry.
"It's our first long-course meet that we've had since March, when we stopped swimming," he said.
"Our goal was to make sure that our swimmers were swimming on top of their times.
"We succeeded in that.
"We dominated in the meet I would say, (and) we won the meet by a fair margin in points score.
"Overall the performance was exactly how we'd like to have it.
"We had a memorial for Terry at the beginning of the meet, and some of us got a little bit emotional.
"They put a black band on their arm and a message on their backs.
"I think a lot of them swam with Terry on their mind, and they just did the best they possibly could."
With stellar performances from all swimmers, there were no standouts according to Fronek.
"They all performed like champions, and it's even better that they are really enjoying their racing," Fronek said.
"Today's Liquid Energy has been simply amazing; watching everyone going about their business, swimming as a team, supporting each other and getting the job done, it was fantastic to watch.
"I am really excited to see so many of the brand-new swimmers here taking part.
"Many of them only learned how to dive this week, and they are doing fantastic."
Gladstone Swimming Club president Corinne Wright observed great racing and sportsmanship on display from all clubs in attendance, and is appreciative of their continued support.
"This is the 13th year we have hosted Liquid Energy and probably the most challenging to work through the complexities of the Covid restrictions," said Wright.
"It takes many hands to run a meet like this – not just on the day, but behind the scenes before and after the event as well.
"70 events with multiple heats is a lot of marshalling, check starting, time keeping, recording, officiating, and other support roles, all of which are volunteers from our club with timekeeping support also provided by visiting clubs, but running the event as a 'closed' event (no spectators) due to Covid, the pool of volunteers allowed on the day was definitely more shallow than usual.
"But, without the help of those volunteers, it would not happen, so thank you to the volunteers and chaperone parents from all clubs."
The Gladstone Gladiators are looking to continue their training cycle and preparations for the City of Charm meet in Bundaberg with their final opportunity to make qualifying times for the State Championships in December.
Wright said Terry epitomised an integral 'club volunteer and coach'. With his 25-plus years of service to the Gladstone Swimming Club, his guidance has been invaluable to many a swimmer and their family.
"His positive attitude for life, his megawatt smile and his cheeky banter will long be remembered in the hearts of all who have been a part of the Gladiator family," she said.
A consistent message from Terry to his swimmers was that hard work and persistence was the key to succeeding, and the Gladiators racing at this meet certainly demonstrated this in abundance by claiming the highest scoring club for the meet. But it was obvious that the biggest winner of the day was fun – another aspect Terry always encouraged.
With nine clubs in attendance from across the Central Queensland region, 12 meet records were broken including six from Gladiators swimmers.
Kane Martin claimed records in the boys' 14-and-over 200-metre backstroke, boys' 14-year-old 100-metre backstroke, boys' 10-and-over 400-metre freestyle, and boys' 14-year-old 50-metre backstroke; while Clara Furness broke the girls' 17-and-over 100-metre freestyle record, and Shianne Plunkett the girls' 13-year-old 100-metre butterfly, which had stood since 2008.