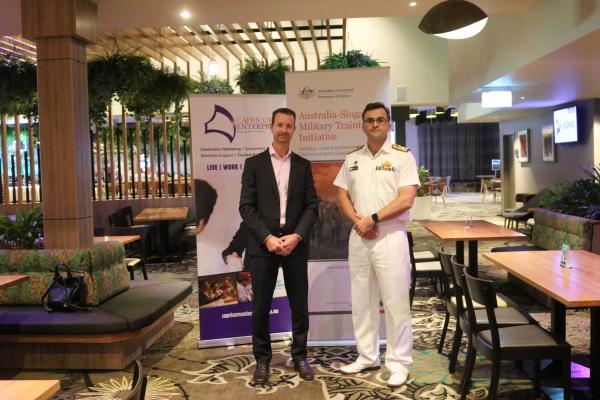 By Matthew Pearce
Big CQ projects like the Shoalwater Bay Training Area expansion had industry representatives optimistic at the Capricorn Enterprise Major Projects Forum.
Held at the Frenchville Sports Club on Thursday 29 October, Covid-19 requirements restricted the usually 220-strong event to 150 people.
Capricorn Enterprise CEO Mary Carroll said the forum was a fantastic way for business and industry to keep updated with major projects occurring in Central Queensland.
"This is our third forum and each year it gets better and better," she said.
"Unfortunately we had to limit our numbers this year due to Covid restrictions which certainly turned a lot of people away, unfortunately."
Among the speakers were Phil Cooper and Ben Hughes from the Work in Central Queensland web platform.
"This platform has been in the works for at least 18 months and it's a confirmation of what we've known for some time now," Ms Carroll said.
"That is, we really need 3000 additional jobs or workers here in CQ to meet the demands of projects underway and planned for the next decade.
Ms Carroll said it truly was a "decade of development" in Central Queensland, with billions of dollars worth of projects well underway despite Covid.
"Today allows the opportunity for business and industry to ask questions of the major proponents on these projects. It's a really fantastic opportunity for business and industry."
Australia-Singapore Military Training Initiative (ASMTI) program manager Commodore Jonathan Earley said his first major projects forum had been "pretty exciting".
He said people at the forum had been curious as to how they could get work with the ASMTI's Shoalwater Bay Training Area expansion project, under managing contractor Laing O'Rourke.
"There's a number of ways that you can go about it, but one that we're proud of is our online tutorials which give you a layman's approach on how to work with us," he said.
"We're a large commonwealth agency and I appreciate a lot of small to medium businesses in the region may not have worked with Defence before."
Some of the topics covered include how to launch expressions of interest, how to lodge a quality tender and how to work with the Department of Defence.
"Out of 44 companies that have already signed up to deliver some of the work at Shoalwater Bay, over 50 percent have been from the Rockhampton and Livingstone regions," he said. "They're sharing work in the order of $80 million already and there's more to come."
Laing O'Rourke general manager operations Craig Simpson said the forum had been "really informative".
"There's a lot of energy in the room and I think for a lot of people in the post-Covid world it's actually pretty good to come together and have a chat face to face," he said.
"A lot of people are very interested in the status of the Shoalwater Bay project and we were able to give them that information and inform them of the job opportunities that exist right now here in Central Queensland over the next couple of years.
"There's still 130 contacts to come at Shoalwater Bay and we're just one of many projects in the region at the moment so the opportunity in Central Queensland is as strong as it's ever been."
Mr Simpson said major, Covid-safe, projects in CQ had been able to maintain their momentum despite the effects of the virus on industries such as tourism.
"We've been very fortunate to have a very large contingent of people on the ground here in Rockhampton so they were able to go to work in a Covid-safe manner throughout the life of the Shoalwater project."
And he said that project was only going to get bigger.
"So far we've had a lot of contacts in and around civil works, fences, fire breaks, access roads and things like that and we're starting to see a shift in momentum," he said.
"We're about to move onto our heavy structural trades such as concrete, structural steel, reinforcing and then building fit-out elements and things like that."
Major works started at Shoalwater Bay in September and could continue until mid-2024.
Among the other presenters at the forum were Queensland Economy Watch economist Gene Tunny, David Brown and Nam Quach from Clarke Creek Wind Farm, Beef Australia 2021's CEO Ian Mill, Suzanne Mitchell representing the Carmichael Mine and Rail Project, Hamish Smith from the Rookwood Weir Alliance, AusIndustry's Deborah Mead and Queensland Resources Council CEO Ian Macfarlane.