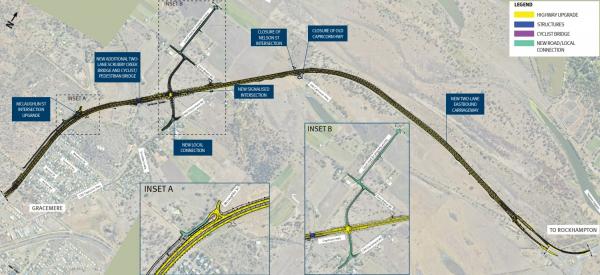 By Sean Fox
Works on the $74 million duplication project for the Capricorn Highway between Gracemere and Rockhampton is now in its final stages.
Firmly on track for completion in July, a Transport and Main Roads spokesperson revealed the major changes which are taking place.
One of the exciting new additions of the project is a new active transport infrastructure for the crossing of Scrubby Creek upon entrance into Gracemere which will include on-road bike riding facilities and a new westbound cycle bridge.
The cycle bridge was opened as part of the traffic switch in May which shifted westbound traffic from the newly constructed eastbound carriageway onto the outside lane of the westbound carriageway.
Along with the installation of two extra lanes in each direction from the Yeppen Roundabout to the township at the Gavial-Gracemere Rd intersection, the project will also deliver upgrades to ease congestion, increase capacity and improve travel times.
While more than 18,000 road users travel along this section of road each day, a key feature will be the set of traffic lights at the intersection of Fairy Bower Rd and Old Gracemere Rd aimed to reduce the amount of collisions.
It will include dedicated turning lanes to improve sight distance along with new line marking and lighting.
While it's not related to the Rockhampton Ring Road project, the latter will be connected with the Capricorn Hwy to benefit road users.