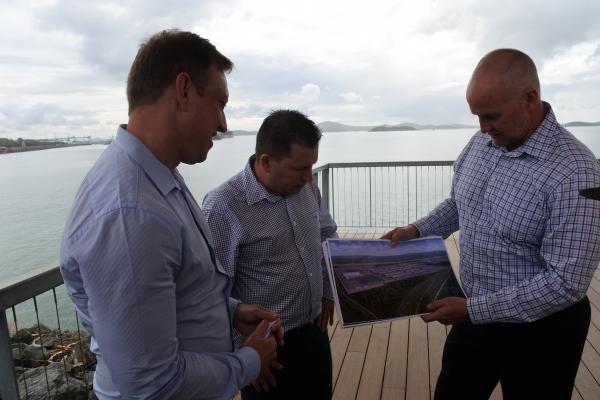 By Duncan Evans
Gladstone's dream of building up a prosperous hydrogen industry has moved closer to tangible reality with the announcement on Tuesday that land in Aldoga has been set aside for an export-scale hydrogen facility.
The three-gigawatt facility will be developed on a 236-hectare site by state-owned generator Stanwell in partnership with Iwatani Corporation, a Japanese firm.
The state government estimates that the facility could produce hydrogen exports worth some $4.2 billion and generate $10 billion across the broader Queensland economy.
In a press release to herald the development, Deputy Premier Steven Miles said the project would help drive Central Queensland's hydrogen supply chain and unlock significant manufacturing and investment potential.
"Encouraging investment in job-creating industries like hydrogen is part of Queensland's economic recovery plan," he said.
Mr Miles said the site at Aldoga had been identified as the preferred location due to its size and proximity to port, power and pipeline infrastructure.
At a meeting at the East Shores precinct on Tuesday, Mr Miles noted that the project was still in the early phases of development. However, he emphasised that the government would move quickly to support the industry to get ahead of potential competitors.
"This industry is powering ahead and we're not alone in wanting to meet this global demand, and so the Palaszczuk government is very energised about competing to get in that market, to be first into that market, because that's how we will create those opportunities," he said.
"We have natural advantages with our renewables and wind and resources as well as our advanced generation capacity already, but as I say, there are other states, other states around the country and other places around the world that would love to have these jobs, that would love to have this industry, and so we know we need to move quickly to meet demand, particularly out of places like Japan and Korea."
Mr Miles also said Gladstone had demonstrated its capacity to build up prosperous large-scale industries.
"We've proven here in Gladstone that we can do big projects like this, that we can create whole new industries and in the process drive billions of dollars of investment and jobs, when we delivered the three LNG processing and export plants, and that's precisely what we want to see happen over the next five, six, 10 years; a new hydrogen industry," he said.
State Labor member for Gladstone Glenn Butcher said the project would deliver a wide range of jobs across Central Queensland during all phases of its realisation. He also expressed confidence in the ability of Gladstonians to deliver the project.
"We have some of the best tradesmen, some of the best skilled workers in the world based here in Gladstone. So this project when it goes forward, we have the facilities to do it. We have the greatest port in the world, as you'll see here behind me. And we have the greatest workforce that you will know that can build these facilities. We've just finished building about six or seven years ago now $65 billion worth of LNG industries in the Gladstone region. Now is our time to diversify from those big industries and move into the renewables space, and the hydrogen space is what we're talking about today," he said.
"Gladstone will be the biggest hub of hydrogen energy in Australia."