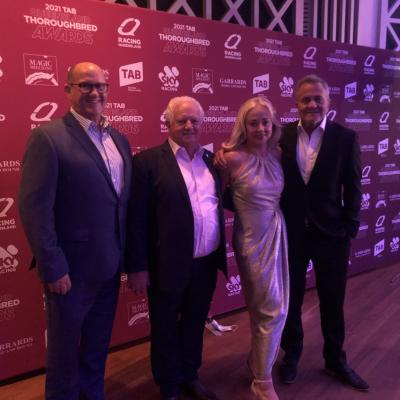 By Rockhampton Jockey Club CEO Ian Mill
Hello again and welcome to another update on news from the Rockhampton horse racing scene.
Last Sunday week, along with Rockhampton Jockey Club chairman Rob Carr, I had the pleasure of attending the Queensland Racing Awards ceremony in Brisbane.
I extend congratulations to everyone associated with the gala function held at Brisbane's City Hall on the night.
It was a glittering occasion staged annually to celebrate the magnificent achievements of Queensland's racing industry stakeholders including the champion thoroughbreds.
From a local perspective it was rewarding to be on hand to recognise and celebrate some of the mighty achievements performed during the 2020/21 racing season by Rockhampton and Central Queenslanders.
Bill and Di Ouston have a long association with the RJC and are passionate supporters of Rockhampton racing.
From their Capricorn Coast base they have the delight of following horses they are involved in the ownership of – horses that race throughout Australia and of course locally at Callaghan Park.
They race the classy Better Than Ready colt Alpine Edge with a large syndicate of equally-minded friends and associates.
The Oustons were delighted when Alpine Edge won the title for the Champion Two-Year-Old.
Twice a Listed Race and Stakes winner in Brisbane, Alpine Edge capped a stellar early-season two-year-old campaign with a second placing in January's Gold Coast Magic Millions Classic behind Shaquero.
Alpine Edge ran a pleasing fourth for Gold Coast trainers Toby and Trent Edmonds behind Lightsaber in last Saturday week's Group-3 Caulfield Guineas Prelude (1400m) in Melbourne.
Keep Alpine Edge on your radar as he is ready to win again soon.
Recognising the deeds of young people in our racing industry is a vital tool for encouragement to stimulate their efforts in a very tenacious field.
So it was indeed fitting, albeit pleasing, that first-year Rockhampton apprentice jockey Tahlia Fenlon received her just rewards.
Tahlia is a credit to her parents Tony and Jodie Fenlon and her training mentor Fred Smith.
Her scholastic efforts were rewarded by sharing the honours with Beaudesert teenage apprentice Jasmine Cornish as Racing Queensland's Student of the Year Title winner.
At only 18 years – and a very competent apprentice jockey with 10 winners to her credit from just five months race riding – Tahlia has a very bright future.
She won her biggest career race on Callaghan Park trainer Dale White's Geoffrey in the NQ Derby on the Saturday before the awards night at Mackay.
Her recognition at the awards ceremony capped a memorable weekend for Tahlia.
Tahlia was again among the winners last week with successes at Twin Hills last Friday and Saturday.
Expect to see Tahlia race riding at Rockhampton Jockey Club meetings at Callaghan Park in the near future.
Rockhampton trainer Tim Cook currently puts the polish on Brad, named the Provincial Premiership Horse of the Year.
Tim gave Brad his second start under his name as trainer when the superbly bred Medaglia D'Oro (USA) gelding won at Mackay, just 24 hours before the six-year-old won his title.
Brad won eight races to win the provincial title under Mackay trainer Trinity Bannon and her father Mick during the 2020/21 season.
I notice that Brad is nominated for an Open Handicap run over 1050 metres at Mackay this Saturday.
Current Rockhampton-based apprentice jockey Alisha Ross, 21, won two titles at the awards from when she was based with prolific winning Barcaldine trainer Todd Austin.
Now with Clinton Taylor at Callaghan Park, Alisha won the Country Apprentice Award with 46 winners.
That's a fine effort considering Alisha mainly only rode once a week of a Saturday at Central Western Queensland race meetings.
Alisha's peers in the Queensland Jockeys Association also recognised her skills as becoming recipient of the Queensland Jockeys Association Premiership title.
Currently, Alisha Ross sits in eight placing overall in the Queensland Jockeys premiership.
She brought up her 14th winner for the season at Gladstone races on Saturday just gone.
Barcaldine trainer Todd Austin's Sizzalating, a Rocky Country Cup winner in April, won the Country Premiership Horse of the Year category.
On behalf of Rob Carr and the committee of the RJC, and naturally myself, heartiest congratulations to all winners on what was a magic night.
In a recent column I highlighted the plight of Callaghan Park trainer Craig Russell who was to have major surgery in Brisbane for a diagnosed cancer related issue.
The RJC in conjunction with friends, family and businesses have undertaken fundraisers to assist Craig and his family in this time of need.
Craig will be sidelined for an extensive period and his wife Theressa has taken long service leave from her job so as not only to assist in nursing Craig back to health but to provide some sort of income.
The first fundraiser took place at our club's race meeting at Yeppoon on Tuesday, 14 September.
It drew a brilliant response from racegoers and industry stakeholders with just under $2,000 being raised.
This was an outstanding considering it was only put together just 48 hours earlier.
Two trainers, Thangool's Pat Brennan and Rockhampton's Jared Wehlow deserve commendation for donating their prize-money percentages won by their horses to the Craig Russell appeal.
As I said racing people always dig deep to help their own in times of need.
A huge package of donated items, from business houses and individuals, is being raffled and will be drawn on St Peter's Caulfield Cup Day races at Callaghan Park on Saturday, 16 October.
Details are available by contacting the RJC.
Craig underwent a 14-hour long operation in Brisbane performed by a group of surgeons last Monday week, September 20.
I am sure everyone joins with me in wishing Craig as speedy a recovery as possible.
Callaghan Park Rockhampton trainers recently won five of the six races at the Mackay Turf Club races.
Seems they are out to emulate that feat this Saturday at the TAB meeting at Ooralea racecourse where 28 Rocky-trained horses have been entered.
Good luck to them.
You may recall in my first column I mentioned that I was a part owner of the race horse Easy Campese.
He is brilliantly named after the champion Rugby Union player of that name – David Campese who attained notoriety in that code.
Easy Campese (the racehorse) is a son of Sidestep and Up and Over, traits made famous by his human counterpart.
David was capped by the Wallabies 101 times in a career from 1982 to 1996.
Keeping you up to date, Easy Campese trialled for Sydney trainer John Sargent last week at Randwick.
He pleased, finishing unplaced, albeit it close up, just 3.5 lengths behind trial winner Splintex.
The gelding has accrued $181,860 in prize money.
He is no David Campese but he can gallop.
John Sargent reports he is progressing well so I suggest you follow him this campaign.
I'll give you the tip when I receive any more stable mail on Easy Campese.
Looking forward to corresponding again next week, lucky punting and take care Ian.