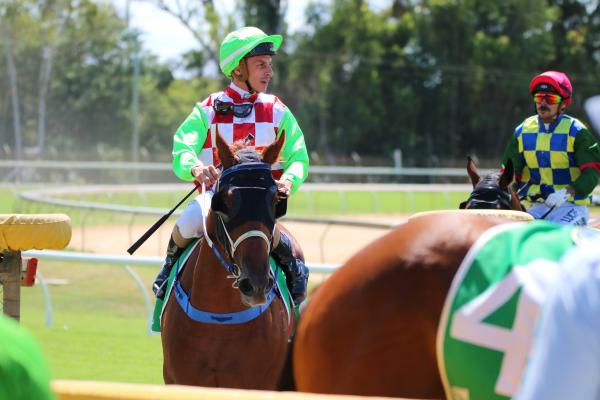 By Rockhampton Jockey Club CEO Tony Fenlon
G'day this is Tony.
I'm really excited about the strength and numbers of horses nominated for the two days of the Capricornia Racing Carnival at Callaghan Park on Friday and Saturday.
I was over the moon to see that some 145 horses had been penned in for Friday's TAB card while 141 entries were taken for the Saturday meeting.
Both days of course Friday, April 9 and Saturday, April 10 comprise the racing component of the carnival.
On Sunday they are followed by the Capricornia Yearling Sale at the Rockhampton Showgrounds which has attracted 101 entries.
Over the two days of racing $493,000 in prize money is up to be distributed.
Friday's (tomorrow) feature race on the massive program is the $25,000 Country Cup (1600m) which has binding conditions set to attract horses that have been competing at Non-TAB meetings.
In other words – country trained horses.
It certainly has done that.
Entries from trainers based at Dalby, Longreach, Emerald, Toowoomba, Eidsvold, Taroom and Springsure have been taken.
The widespread country representation, mixed in with locals that have raced on the Non-TAB circuit as required, will ensure keen interest and solid betting turnover.
Our biggest list of nominations came for the BM 0-48 Handicap (1200m) whereby 27 horses were nominated.
Sizeable entries in all of the eight races originally programmed suggest that it is possible that the Friday card could expand to beyond eight races,
The two features of Saturday's Callaghan Park program are the $143,000 CYS Two-Year-Old Classic (1200m) and the $93,000 Three and Four-Year-Old Championships (1300m).
Entries for the two-year-old classic are by form of a pay-up system much earlier in the season so the actual bulk total can be deceiving.
As it stands 66 horses that were paid-up for the two-year-old race have now been entered for the three and four-year-old classic.
Those numbers suggest that both races will attract capacity fields.
As I have been reporting in this column Sunshine Coast trainer Tom Button has a huge hand in both races.
Tom could have as many as five youngsters start in the two-year-old race.
He has three horses – Flying Crackerjack, Miss Lot One and The Silver Lady set to run in the Championships.
If there is any such thing as a good thing in racing Flying Crackerjack looks the part in the Championship given its impressive Saturday performances in Brisbane.
I also would be brave enough to suggest that Tom's Valley Rattler looks the winner of the $143,00 CYS Two-Year-Old Classic (1200m).
But as they say – the only sure thing in racing is its uncertainty.
The two big days of racing with horses nominated from as far south as the Gold Coast and north to the Atherton Tablelands is a positive for the Rockhampton economy.
Add on the impact from Sunday's CYS at the Rockhampton Showground and the financial positivity for the city runs into huge dollars.
The vast majority of vendors for the yearling sales are visitors with some from interstate.
They have already commenced to arrive with their horses and staff in Rockhampton.
Some of the studs bring a staff of as many as five people and all have to be accommodated in the city with all the economic flow-on occurring.
As well many will require feed for their horses.
Then there are the owners, trainers, strappers and jockeys staying on after the two days of racing. Not forgetting the influx of potential buyers arriving in Rockhampton for the CYS.
It all equates to bug bucks for Rocky.
On the back of last weekend's successful Rocky Nats and leading up to Beef 2021, Rockhampton is shaping for a very good year.
So, readers hope you can lend your support to getting over to Callaghan Park for the two days of racing and pop in to the CYS and who knows you may go home with a horse.
Check out our Callaghan Park website and Facebook page for all the events and the Covid protocols applying.
Dululu breeder Susan Peddle has the largest local draft of yearlings with six uncatalogued for Sunday to go under the hammer.
Five are the product of Susan's classically bred stallion Altius.
A son of Redoute's Choice and the Marscay mare Circles Of Gold, the 13-year-old Altius is a half-brother to group-one winning racehorses Elvstroem and Haradasun.
A winner at two, Altius won four races during his career for earnings of $182,000.
At stud he has had limited opportunities from outside mares but Susan has loyally sent her own winning mares to him
"He has not had the opportunities he deserves but he is a real gentleman to do anything with. He has a lovely temperament and from what I have heard so too do his stock", Susan said.
All five of the Altius draft are from winning mares something Susan is a great believer in.
"I have sourced winning mares and sound mares to put to him and Altius has only a few of his progeny to race but has sired the winner in Nonstop", Susan said.
Nonstop, a daughter of the very fast All Bar One mare Barcolla Magic was a Callaghan Park winner last season.
Lot 68, a chestnut colt by Altius from Barcolla Magic is among the Peddle draft and is a full brother to Nonstop.
Susan Peddle takes great interest in watching the horses she has bred develop into racehorses.
She has derived great satisfaction from the deeds of Emilee's Empire a filly by Carrara that she sold for a song at the 2019 CYS go on to win almost a hundred grand.
Make sure you peruse Susan's draft at the sale next Sunday.
See where our Callaghan Park trainer Graeme Green has Ahooshu entered to race in Brisbane on Saturday in a rich QTIS 2YO Handicap (1200m).
The handicappers haven't missed Ahooshu after he ran second under set weights to Sweet Dolly in the $500,000 Jewel at the Gold Coast three weeks ago.
Ahooshu has to carry 58.5kg on Saturday in Brisbane.
However, should he make the trip rest assured he will be hard to beat.
For all the details of the RJC's huge week of racing, sales and social activities keep up to our Facebook page and website.
Don't forget the Covid protocols that will be in place at Callaghan Park and at the Rockhampton Showgrounds. Bring your mask along with you, it will be required to be worn.
Don't forget as well that racing goes to Keppel Park for the Yeppoon Turf Club race meeting on Saturday, April 24 and then back to Callaghan Park on Thursday, April 29.
Until next week this is Tony.