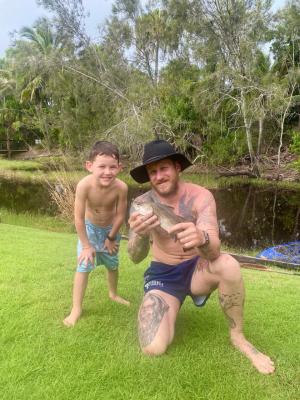 By Darryl Branthwaite
At last, we have seen some decent rainfall right across the region creating inflows into some water storage dams, weirs and rivers.
This has really stirred things up out at the Moura Muddy Water Classic with some good fish being caught.
The kids are beating the senior fishermen at times like Logan Higgins and his Jew aka Eel-tailed catfish (great eating by the way) weighing in at 1.868 kg over John Higgins (dad I presume) 1.416 kg. I have no doubt there will be bragging rights in the Higgins household for a while.
There were other species caught too such as Black Bream, Sleepy Cod, Yellowbelly (aka Golden Perch) and Catfish.
So, if you are keen to check out this spot or maybe others such as Baralaba etc for a weekend of camping the local communities will benefit from your stay, so don't be a stranger.
Looking closer to the coast the wild weekend of strong winds prevented anyone from venturing out and the Barra, Threadies, flathead, bream and crabs certainly held the focus.
The Port Alma, Raglan Creek and Lower Fitzroy systems didn't let too many down with plenty of Barra and other species about.
I was sitting with Chris Trevor a couple of days ago and he showed me a pic of his son and grandson holding a small juvenile Barra they'd caught in the little tidal lagoon system out front of the house at Agnes Water, fishing from a canoe.
Over these past few weeks, the creek has topped up with water from a bit of run off but also the big tides and fair few Barra had been caught in there when the tide receded.
Many have since returned to the open water but how good is it to see these fish probably from the Jan 2020 spawn out there in good numbers.
Don't forget these fish grow at the rate of 1 mm per day, and the one pictured was released along with many others.
There have been a number of crocodile sightings around the Boyne River, South Trees, the Narrows and beyond so please be aware of their presence.
This weekend looks to be amazing as we approach the new moon on Monday. The weather at the time of writing this looks to be awesome basically from this afternoon right through till Sunday night/Monday morning with glass out conditions predicted on both Saturday and Sunday mornings.
There are plenty of pelagics about from your Spanish through to Cobia, Tuna and the odd Wahoo by the looks.
Don't forget we have a swag of events coming up across the region from the BT HookUp through to the Tannum Crabs Classic and just announced last week that $100,000 tagged Barra at lake Awoonga for the Pirtek Challenge. Amazing prizes!!