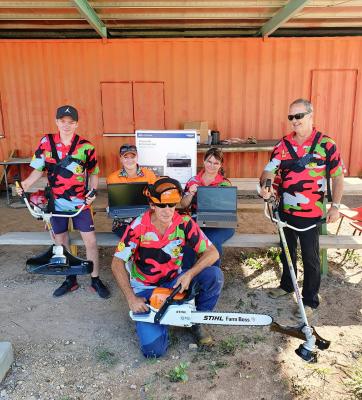 FULL DRAW FIELD ARCHERS
A big thank you to Rockhampton Regional Council for the Recovery from Covid-19 grant. We received $2400 to put towards equipment to help us come out of Covid-19 closure.
Full Draw Field Archers also welcomed councilor Shane Latcham representing RRC, and we all thanked them for the generous grant.
Without hard-working volunteers, clubs would find it extremely hard to be successful. The FDFA was fortunate enough to receive a $5000 Volunteering Queensland Grant for equipment, so our club volunteers don't have to use their own gear.
We purchased two brushcutters, a chainsaw, two laptops, and a printer, which will all be well-used. Thank you the Queensland Government and all of our hard-working volunteers.
We are looking forward to a good year and hope to grow our membership.
Full Draw Field Archers meets almost every Sunday morning from 7am at Access 4 Rockhampton on Yeppoon Road. You can also find us on Facebook.