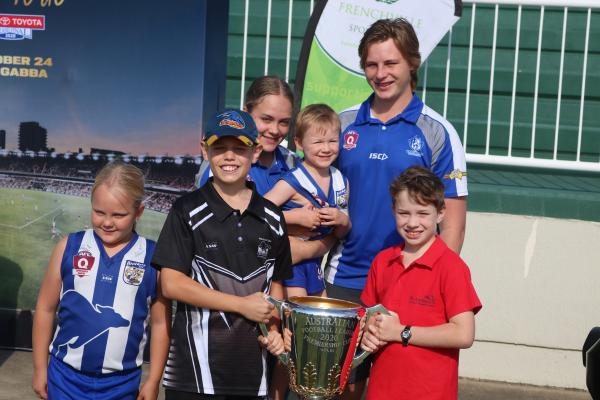 By Liam Emerton
With the AFL Grand Final being held in Brisbane this year, the cup has made its way throughout Queensland and on Wednesday morning it arrived in Rockhampton.
The trophy wasn't originally scheduled to arrive in the city, but the determination shown by AFL Capricornia and competition manager Brad Matheson helped bring the tour to Rockhampton.
Matheson said it was great to see a solid crowd gather – especially so many families.
"It is a really rare opportunity for our region that we have the AFL Cup here," Matheson said.
"It's great to see all the kids and supporters and plenty of club colours down here to support the cup.
"It's a once-in-a-lifetime opportunity for our region.
"It's really good for our game.
"It's created conversation – there's a lot of people around town that aren't AFL supporters or watchers, but the game is being spoken about a lot now."
Matheson said it was another way to get kids involved in the sport.
"It's a massive sport from Victoria and it's been growing strong in our state at the moment," he said.
"For us to get the opportunity to have our kids with the premiership cup – it's something that not many people get to do.
"We've seen continued growth in our juniors across the region.
"Beyond just playing the game, the love that kids are beginning to have for our game is obviously evident.
"They'll probably, more so over the next couple of years, look back and think of what a great opportunity they had.
"It's the cup that's going to be handed over in October at the Gabba in a couple of weeks.
"I'm sure every kid in our region is hoping they get the chance to be out there on the main stage, and it'd be fantastic to see our kids from this region holding it up."