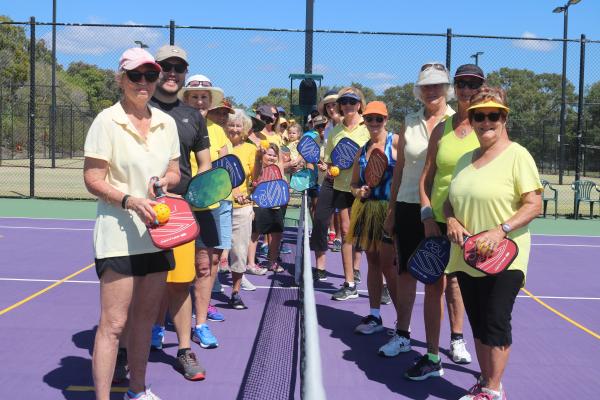 By Liam Emerton
There's a new game being held at Yeppoon Tennis Club, and it has a very unusual name.
Pickleball, named after a dog that fetched the ball, is the sport of choice for 20-odd players at the Yeppoon tennis courts.
The game is a combination between tennis, badminton, and table tennis with smaller courts, a wiffle ball, paddles instead of racquets, and modified rules.
The games are designed to be short and sharp, using less energy and maintaining a lower amount of stress-placed on the body.
The game was brought to Yeppoon by Karen Latinovic and her family in July after her daughter Amanda came back from playing the sport in America.
Karen and her husband John invested in a couple sets of equipment and have seen the sport grow from four people to over 20 in a short period of time.
The Yeppoon Tennis Club then purchased another two sets.
"My daughter was over in Florida and she's an ex-tennis player, she used to play the junior circuit," Karen said.
"She went out and played with her partner's family and they talked her into going to play pickleball.
"And it was such an equaliser because everyone can play it, and you can have a lot of fun.
"She came back and said: 'Mum, come on, you've got to introduce it to the club'."
CQ Today took the trip to the Yeppoon tennis courts to watch the unique sport on Saturday, which lined up with World Pickleball Day.
Karen told CQ Today that the day itself was magnificent and she's so excited for the future of this sport.
"We've had a really good response," she said.
"On Saturday we asked all the regular players to come dressed in yellow.
"And a lot of people have got on board, our club president has come down, and a few of the committee members.
"We're predominantly a tennis club, but we're introducing a new sport to everyone."
Karen said the game is very skill-based and requires less physical activity then many other sports.
"They describe it almost as a game of chess because it's so strategic," she said.
"We set it up on a tennis court and we have lines that we throw down to make it the size of a badminton court.
"You serve underarm, scoring is first to 11, and it's quite a quick game.
"It's very quick on your reflexes and you don't need to run around and cover as much court, which is good for people with back or knee issues.
"We've had a lot of people who had to stop playing tennis come across and play pickleball because they can actually play it."
To get involved with the unique sport at Yeppoon Tennis Club, new players can call Karen Latinovic on 0468 925 535.