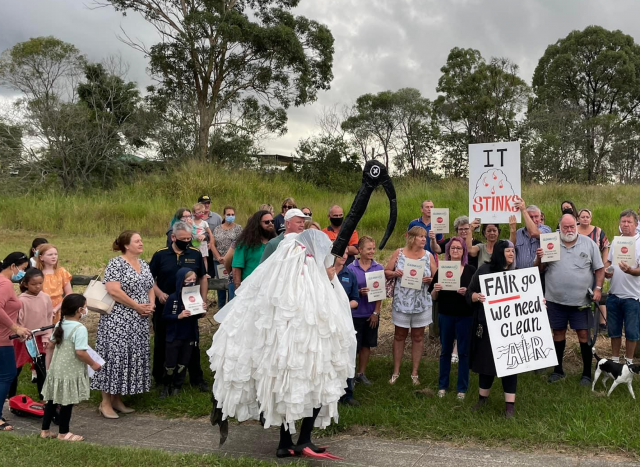 Kate Dodd, Ipswich Today
Health Minister Yvette D'Ath has rejected Ipswich City Council's request for Queensland Health to conduct an urgent investigation into the odour issues facing residents.
Ipswich Mayor Teresa Harding wrote to Ms D'Ath making the request after residents shared "very real and negative health symptoms" they were suffering during the 10 April Stop the Stink town hall meeting.
Mayor Harding said she was disappointed by the response and that Ipswich was "tired of being the state's dumping ground".
In correspondence tabled during the July ordinary council meeting, Ms D'Ath told Mayor Harding while she understood the significant impact the odour was having on residents, it "may be difficult to justify the establishment of a panel of inquiry under s294 of the Public Health Act 2005, as the health based guidelines have not been exceeded at this stage".
She noted the odour levels from the site were "regularly above established nuisance thresholds and remain a source of significant concern to residents" but said the Department of Environmental Science advised Cleanaway had "implemented several on-site controls to address the source of this odour which has been exacerbated by the more recent weather events".
She said her department would continue to review air monitoring data and requested to be included in the DES review of air monitoring plans for the location and the Swanbank area and that West Moreton Public Health alerted its GPs to report any concerns where they believed a patient's symptoms may be attributable to the exposures from the Cleanaway site.
Mayor Harding said residents wanted "real answers and real actions" ahead of the coming summer, where there was a "very real possibility" storms and rain would cause the same issues to occur again.
"Our community deserves to know what's going on around their homes, and what long term health impacts these odours will have on them and their families.
She told Ipswich News Today that an inquiry would help to calm residents – whether or not it found that the odours they were breathing in were dangerous or not.
"It would be reassuring for the community to know what is going on or if there are any long term effects," she said.
Going forward, she said council would continue to work with DES to ensure compliance by local waste companies.
Ms D'Ath did not return a request for comment.