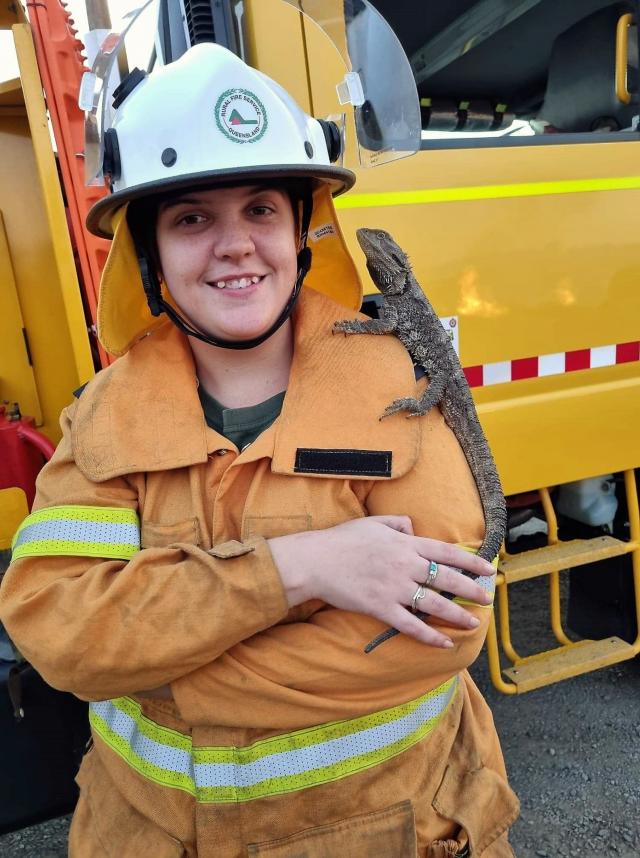 By Angela Norval, Bundaberg Today
Branyan Rural Fire Brigade's Caitlyn Simpkins-Field stood proudly with her fellow volunteers this week as 28 were acknowledged in a medal presentation highlighting their hard work and commitment as part of Rural Fire Service Week.
However, Caitlyn was shocked and honoured to hear her name called for the State Young Volunteer of the Year Award, an award presented to an individual between 16 and 25 years who consistently demonstrates an outstanding voluntary commitment to Queensland.
Winning the award for her outstanding compassion, support, commitment and diligence to the brigade and her community, Caitlyn said for her it meant that she was supporting her community well through the Rural Fire Brigade.
"I was initially a part of the local SES Unit and then wanted a new challenge so signed up for the Rural Fire Brigade," she said
"I joined the RFS for the opportunity to help our community in times of need, whether it's on the fire ground or in an Incident Control Centre.
"I have had a number of opportunities to put the skills I have learnt into practice in quite daunting situations but I can do that confidently knowing that I have this training and the backing of my fellow rural fire brigade members.
"For me there is nothing better than knowing that I have the ability to not only protect my own home but also those of others in the community.
"I absolutely encourage others to join the Rural Fire Brigade as you can start training as young as 16 and it is such a wonderful thing to be a part of; we are like a yellow family."
Bundaberg MP Tom Smith, representing Fire and Emergency Services Minister Mark Ryan, said the highlight of the event was the State Young Volunteer of the Year.
"It's an amazing achievement at a young age and sets a great example for the next generation of volunteers.
"Caitlyn's enthusiasm and can-do attitude make them a highly valuable member of their brigade."
Queensland Fire and Emergency Services (QFES) Deputy Commissioner Mike Wassing said 39 medals and claps and 25 certificates were presented to Bundaberg Area Rural Fire Service staff and volunteers.
"Our volunteers work tirelessly to protect and serve with the community and that effort does not go unnoticed," Deputy Commissioner Wassing said.
"Each award recipient has demonstrated QFES' core values of respect, integrity, courage, loyalty and trust, and we thank them for their service.
"Congratulations to all of our award recipients for supporting their communities when they need it most."