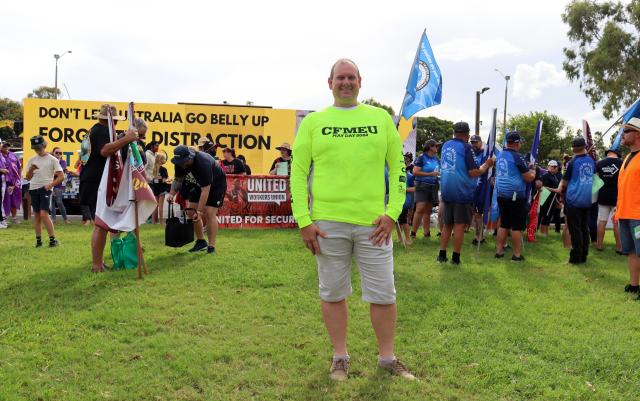 By Matthew Pearce
The ALP candidate for Capriconia says Central Queensland communities are losing hundreds of thousands of dollars annually due to workforce casualisation.
Mr Robertson said the McKell Institute's report into wage-cutting strategies in the mining industry, released on Labour Day, was damning for the Federal Government.
He described the ability to repress wages through casualisation as a "deliberate strategy" of the LNP.
"I've seen the local LNP member say that people want to be casual but what we are seeing is a massive hit to families and communities from the casualisation of the workforce."
In the foreword to the report, Mining and Energy Union general president Tony Maher described the loss of economic activity in the Flynn electorate as between $218 and $358 million annually; and in the electorates of Capricornia and Dawson between $223 and $396 million.
Mr Robertson said Central Queensland needed a fresh start and part of that fresh start would be the concept of 'Same Job, Same Pay'.
"If you're doing the same job and working the same hours surely you're entitled to be paid the same as the person beside you," he said.
"We're constantly seeing a massive disparity where people are doing the same job, year in year out, and are still employed casually. The ALP's policy is going to bring back a level playing field.
"People should be given the choice, casualisation is a real menace and it's causing some massive problems in a number of industries, not just in mines."
Mr Robertson said casual workers missed out on the benefits of permanent employment and faced difficulties getting a home loan or car loan.
"People are working sometimes two and three jobs – I was at a local bistro and the person behind the bar was working in aged care as well.
"They were doing a second job because the aged care job wasn't paying enough for their families."
Member for Capricornia Michelle refuted Mr Robertson's claims, saying information released from the Minerals Council of Australia showed the mining industry had the highest rates of permanent workers, either employed directly or as permanent employees of service contractors.
She said mining employment had increased from 83,900 in 2002 to 264,700 in 2021 and "overwhelmingly these jobs are permanent positions".
"In 2021, 88 per cent of mining workers were permanently employed, up from 84 per cent in 2020," she said.
"In coal, 93 per cent of coal mining workers in Queensland and NSW were permanently employed, up from 87 per cent in 2020.
"Once again, the Labor Party is playing politics on the eve of an election."
Ms Landry said Federal Government reforms introduced on 27 March meant there was now a definition of casual employment as well as a statutory rule for courts to offset casual loading amounts against monetary claims.
"If the Labor Party were serious about addressing underemployment and casualisation, they would have supported our changes to give greater certainty to businesses and workers."
She said introducing a statutory definition of casual worker gave employers certainty and ensured Australia's 2.5 million casual employees understood their work arrangements and entitlements at all times.
"Casual employees now have more opportunity to convert to permanent employment through the casual conversion entitlement," she said.
"This requires employers, except for small business, to offer full-time or part-time employment to eligible casuals unless there are reasonable grounds not to."
Minerals Council of Australia CEO Tania Constable has described the McKell Institute report as "neither credible nor impartial".