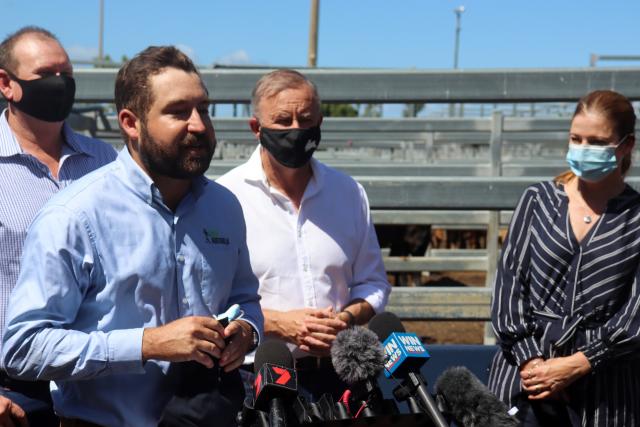 By Matthew Pearce
On the campaign trail in Central Queensland, Opposition Leader Anthony Albanese says he wants to see a "coal miner in the seat of Capricornia".
Mr Albanese was joined by a slew of local and visiting ALP personalities at CQLX Gracemere on Thursday, 7 January, including Labor candidate for Capricornia Russell Robertson, Labor candidate for Gladstone Matt Burnett, State Member for Rockhampton Barry O'Rourke, Shadow Minister for Northern Australia Senator Murray Watt, Shadow Minister for Agriculture Julie Collins and Shadow Treasurer Jim Chalmers.
Speaking at the saleyards after getting up close and personal with a pen of brangus steers, Mr Albanese said Mr Robertson, who has been working in the mining sector for more than 20 years, and Mr Burnett, who is currently the Gladstone Region mayor, would be ideal candidates for this 'great part of Australia'.
"They are a part of these communities and have history in these communities going back generations which is why they're passionate about jobs and economic growth right here in Central Queensland."
The Opposition also announced an ALP government would invest $6 million in Beef Australia 2024, allowing organisers to increase the physical footprint of the event, invest in more infrastructure to meet growing requirements of a technology enabled event and revitalise the international program to reconnect with international customers and supply chain partners.
The investment will also provide a 'lasting legacy' at the Rockhampton Showground for locals.
"Beef 2024 will no doubt be attended by more people than Beef Australia 2021, which was was attended by 150,000 people and contributed some $90,000 to the local economy," Mr Albanese said.
"The Australian beef industry is worth more than $15 billion to our national economy, that's why it is so important."
He said food shortages at supermarkets due to supply chain issues served as a big reminder of just how essential it was to have fresh food on the table.
"At the moment the food on our shelves have gone missing, just like the government's leadership. At Coles here in Rocky the shelves are virtually empty," he said.
"Scott Morrison is always there for the photo op, for the clever shot with the high-vis, but he's not there when his own job is on the line and it's his job to prepare for issues including the pandemic."
Mr Albanese said the Transport Workers Union had written to the government in September saying they needed to prepare for supply chain issues and needed access to Rapid Antigen Tests.
Candidate Russell Robertson said he understood how important beef and Beef Australia was to Rockhampton.
"We are the beef capital and we like to see these events go ahead and this great commitment from Albo and Jim and Julie makes sure we can deliver funding for this great event.
We're excited for what this funding can do."
Candidate Matt Burnett said for him it was all about the 'Reef and the Beef', with Labor pledging $15 million if elected to CQUniversity to allow for the completion of the Coastal Marine Ecosystems Research Centre in Gladstone.
Beef Australia chairman Bryce Camm said the Beef 2024 funding was a "vote of confidence in our regions and for the Australian beef industry".
"$6 million for Beef 2024 is a significant announcement and an investment in our event coming back bigger and better again in 2024," he said.
"Thank you for the acknowledgment of Beef Australia as an event that's so significant for Rockhampton and the Capricorn Coast but also for your confidence in our farmers and our beef producers right around the country.
"It's an industry that's on fire at the moment, it's going so strong and this announcement will help it continue to grow."
Asked what Central Queenslanders could expect from a Labor government, Mr Albanese said the ALP was dedicated to backing Central Queenslanders and their skills – "whether it's backing individuals through 465,000 free TAFE places, 20,000 new university places, a National Reconstruction Fund that we will establish to support existing industries to become more efficient, and even through new industries as well."
"We want to work with our farmers, with our businesses, with trade unions and with our community to make sure that this economy grows.
"I believe passionately in growth and jobs and in regions such as the Rockhampton Region, it is so important.
"I want to see Matt and Robbo being a voice for this community into Canberra to make sure the national government truly represents the whole country."
The Federal Election is expected to be held sometime between March and May.