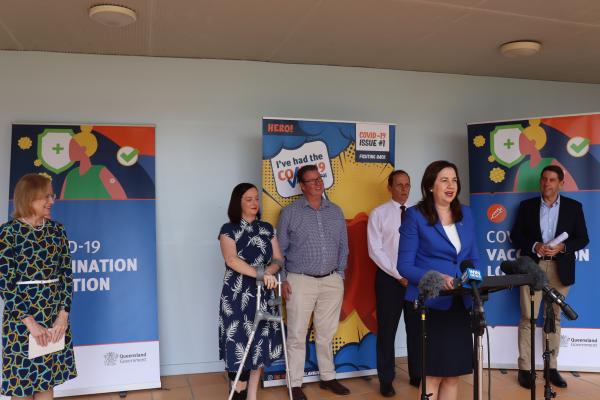 By Matthew Pearce
Annastacia Palaszczuk wants Central Queensland residents to catch up with people in the south-east corner when it comes to vaccination rates.
Speaking at the vaccination hub at the Department of Agriculture and Fisheries on Yeppoon Road on Tuesday, 19 October, Premier Palaszczuk said people had until the end of October to get their first jab if they wanted to be fully vaccinated when borders reopen to vaccinated people from interstate on December 17.
"People will be travelling, they will have to be fully vaccinated to come here, but I can't tell you when the next Delta outbreak will happen and the last thing we want to see is the next outbreak happening here on our doorstep," she said.
The premier said Queensland had reached 72.47 per cent first doses and 56.9 per cent second doses. In comparison, Central Queensland has reached 62.9 single dose and 47.9 per cent fully vaccinated.
"This region is one of the lowest regions in the state, that's a big problem," she said.
"What this means is the virus will come and search out those who are unvaccinated.
"When you are at 80 per cent double vaccinated it gives a lot more certainty to your community and you will be able to feel very safe."
She said more vaccination hubs would be open at schools in Gracemere and Blackwater on Saturday to help with the vaccination effort.
"Central Queensland's figures are not good enough, my job is to keep you safe but now its over to you, there's plenty of vaccine there so there is no reason you cannot go and get that vaccine, so please go and do so."
Treasurer Cameron Dick said Rockhampton and Central Queensland had done a wonderful job keeping the economy going during the Covid-19 pandemic.
"When it comes to the economy, whether it's agriculture, mining or tourism, the economy has performed so well and we just can't afford to let all that good work go to waste."
Member for Rockhampton Barry O'Rourke called on younger people in particular to do their part and get vaccinated, saying he didn't want a Covid wave hitting Rockhampton.
"If you're not vaccinated, what's going to happen at Christmas time?" he said.
"A lot of us will be out socialising at pubs and clubs, drinking cold beers in hot weather.
"It's up to you whether you get to go out and about, it's your responsivity to get vaccinated."
Member for Keppel Brittany Lauga urged Central Queenslanders to get vaccinated to help protect children and immune compromised people who were unable to get the jab.
"In Queensland we've done so well in suppressing Covid and keeping Covid out our community and in previous years we have done so well to responding to natural disasters," she said.
"And when we know that natural disasters are coming we prepare.
"What we've got coming is like a natural disaster, the Covid waters are rising and we need to be ready to keep it at bay."
Rockhampton Region Mayor Tony Williams urged those members of the community who were not vaccinated to line up for a jab.
"Unfortunately in regional areas people have become complacent, they feel its not coming to 'our neighbourhood'," he said.
"Now's the time to man up and woman up to get those jabs, for our family, friends, our businesses and tourism.
"We have a window now that we can take advantage of to make sure we all line up and get those vaccinations up along with the rest of the state."
Vaccination clinics at Bunnings Warehouse on the weekend were a great success, with multiple reports coming in that supply of vaccines exceeded demand.
Seventy-one doses were administered at Bunnings Rockhampton on Sunday alone, with 118 total doses over the weekend.
Numbers at Bunnings Yeppoon surpassed Rockhampton with, 99 doses administered on Sunday and a total of 146 over the weekend.
Gladstone Bunnings saw 118 doses delivered on Sunday, with a total of 226 over the weekend.
On Sunday, 296 doses were delivered at the Rockhampton vaccination centre with a further 307 delivered on Monday, for a total of 21,488 at that location.
Read MP Brittany Lauga's column on Page 37 for her thoughts on the vaccine rollout.