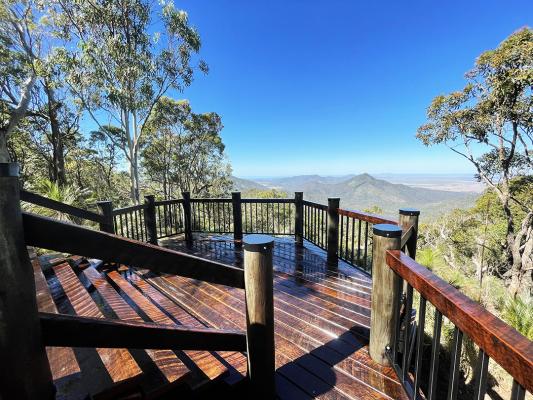 The Grass Tree Lookout at Mount Archer is ready for visitors once again, following upgrades completed by Rockhampton Regional Council and Queensland Parks and Wildlife Service (QPWS).
Parks, Sport and Public Spaces Councillor Cherie Rutherford said that Tuesday had capped off an upgrade that was seven months in the making.
"In a project supported by Council, QPWS commenced work on the walking track between the amphitheatre and the lookout back in February," Cr Rutherford said.
"Once that section of the track was completed, we were then able to get to work on the lookout itself.
"While the refurbishment only took around six weeks for our crews to complete, the track needed to remain closed so that QPWS could safely transport materials needed for the next section of the Zamia Walk Revitalisation Project.
"In addition to the amphitheatre and the skywalk, we are really pleased that residents and visitors can once again enjoy this beautiful vantage point, taking in the incredible views Mount Archer has to offer.
"The Grass Tree Lookout has always been a popular spot especially with the locals, whether it is taking in the sunset, taking a quick break on the start of a hike, or capturing that special moment on camera.
"The improvements to the platform mean it will remain functional and safe for the next ten years before it needs any further attention.
"And while the refurbishment was very much needed, it certainly provided for some challenging logistics along the way.
"A helicopter proved the most efficient and safe option to transport materials down to the lookout and bring the old timber back up the hill.
"Everything on the deck was replaced and only the existing posts were re-used. Bearers, joist, decking boards, post caps and aluminum balustrading were all replaced with new.
"We know our residents will be pleased that this stage of the walk and the lookout have reopened and we would like to thank everyone for their patience while these works were carried out."
Principal Ranger Andrew Colvill said it has been great for Council and QPWS to work together to complete this wonderful facility.
"The new track now links the Zamia walk to the amphitheatre and Grasstree Lookout and is the first section of over 3km of new trail QPWS is working to complete by early 2022," Mr Colvill said.
"The Zamia walk is a an extended hike over 13km from the summit of Mt Archer to Sleipner Lookout, First Turkey Reserve and German Street taking in the best that Mt Archer National Park has to offer."
The QPWS Zamia Walk Revitalisation Project is still underway and some sections of the Zamia walk are still closed and under construction. QPWS encourage visitors to keep up to date with the latest park alerts. https://parks.des.qld.gov.au/park-alerts.