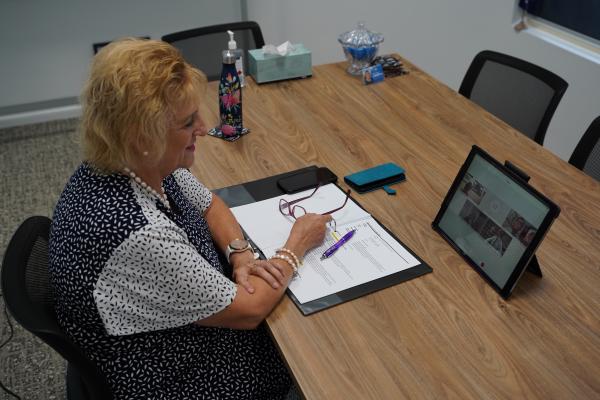 Sean Fox
Federal Member for Capricornia, Michelle Landry hosted a virtual tour of her electorate for her colleague, Minister for Regional Health, David Gillespie on Thursday morning.
Ahead of her busy day which involved discussions with several stakeholders, Ms Landry kindly offered her time to speak with CQ Today about her commitment to increase medical staff and training opportunities.
Starting from 9.30am, Ms Landry met with representatives from City Heart Medical in Rockhampton, Terry White Chemmart, Awal Medical Centre in Sarina, doctors from the Clermont Country Practice and graziers from Clermont. Joining her via video link, Minister Gillespie who was elected in his portfolio about the same time as Ms Landry. They talked to medical professionals about the issues facing our regional health sector, such as the shortage of trained staff. They endeavour to work together to create solutions to these problems, and ensure programs are in place to alleviate with specialist appointments being brought to patient care.
Meanwhile, Minister Gillespie looked forward to his virtual tour of Capricornia from New South Wales.
After having been elected in the federal government around the same time as Ms Landry, Minister Gillespie looked forward to collaborating with Ms Landry to achieve better outcomes for health within country areas.
"We are working to make sure there are special programs in place for vocational training to equip overseas health professionals who are in Australia," he said.
"I am addressing the community to discuss the difficulties in finding general practitioners in regional areas and how to better equip these areas; as a lot of students gravitate to metropolitan areas following their studies.
"We are doing a lot of work in bettering the sector after the impacts of COVID-19.
"There has been a backlog of medical graduates in cities."
Both Ms Landry and Minister Gillespie are working to expand the workforce and medical schools into regional communities through the vocational training scheme which the former has implemented in Clermont.
Minister Gillespie said he was proud of MP Michelle Landry for her lobbying to establish a clinical school in Rockhampton.
"We want to ensure there is funding to alleviate the shortages and there are acute medical practices," he said.
While he noted the state of Queensland was behind other communities interstate with the rollout of the vaccination for COVID-19, Minister Gillespie planned to speak with his colleague about her recent victory to secure an $8 million hospice for the region.
"We both want to see more specialists and general practitioners in country areas which was at the front of my thinking," he said.