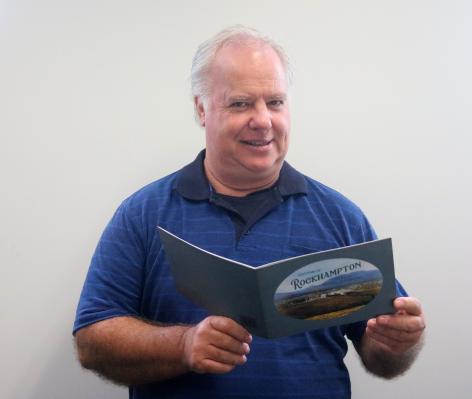 By Matthew Pearce
Mark Svendsen has always been interested in local history and now he's bringing Rockhampton's past to life in a way never seen before.
Having previously published books on local history through Coorooman Press, the avid historian has compiled colourised photographs of the beef capital into a souvenir booklet.
"I was inspired by the old souvenir booklets that you used to be able to get from every place you visited, or the old souvenir postcards where you'd get multiple postcards in one set," he said.
"The idea was born to try and colourise the photographs of old Rockhampton and make a really nice product that locals will like but you could also pick up as a souvenir.
"The booklet will fit in an A5 envelope so it's easily able to be mailed overseas."
Mr Svendsen said the colourisation process had led to some surprises.
"One photo is a view of East St from the north side of the river, showing the Queensland National Bank building (now Riverston Tea Rooms)," he said.
"That photograph in black and white is a fairly dowdy image, but when colourised it just comes to life in an entirely different way.
"It brings up details that you couldn't see before including the people on the bank on the far side of the river."
Mr Svendsen said impressive black and white images could fail to 'pop' in colour and vice versa.
"Sometimes I'll look at a great photo and think, that's going to come up really well when I colourise it, but then you'll put it through the program and it's just awful," he said.
"Other times I've photocopied pictures from mining magazines – tiny, muddy, black and white photographs – and when I colourise them they look amazing.
"A lot of time and effort goes into the selection of the shots. While you've got all these photographs to choose from, a lot of them just don't work."
Photographs in the booklet show Purrey steam trams in East St, the original Fitzroy Bridge at the time of the 1918 flood and young men and women roller skating in 1888.
"Roller skating took off around the world because they started to manufacture skates in mass quantities and the craze hit Rocky, as every craze always does of course."
Mr Svendsen said the photographs in the booklet didn't come from local collections but from state libraries, reflecting Rockhampton's time as a thriving port city bolstered by the gold mine in Mount Morgan.
"There was a lot of travel from the state capitals, particularly Sydney and Melbourne. And of course they took photographs, as they were usually richer members of society," he said.
"Rockhampton was literally the capital of Central Queensland. It was a focal point for everything from trading in commodities like grain and cattle through to the buying and selling of properties."
The booklet, entitled, 'Souvenir of Rockhampton, Capital of Central Queensland' is planned to be the first in a series, with others on the way showcasing the Rockhampton Botanic Gardens, Mount Morgan, Emu Park and the beef capital's historic 1918 flood.
The Rockhampton souvenir booklet is available from Dingles, Georges, Riverston Tea Rooms, the Rockhampton Botanic Gardens tea rooms and PNE Art and Framing in East St.