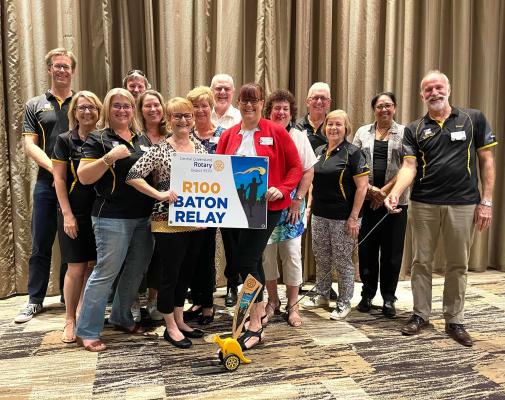 By Matthew Pearce
Rotary's annual district conference will be a bittersweet experience for members this year, as it'll be the district's last.
District governor Adele Hughes said 45 clubs from District 9570 would be represented at the Gladstone Entertainment Centre this weekend, with proceedings starting on night of Friday, April 30.
"It'll be a trip down memory lane, with the theme of the conference being 'Remember the Past, Enjoy the Present and Embrace the Future," she said.
"As of 1 July, we'll be amalgamating with our northern neighbours, District 9550, so this will be our last ever district conference."
District 9570 stretches from Maryborough and Harvey Bay in the south to Mackay in north and out west to Longreach. The new district, when it's formed, will take in about a third of Australia.
Ms Hughes said the clubs in the district were celebrating the 100th anniversary of Rotary in Australia and New Zealand with a baton relay.
"We had three batons made. One relay started in Mackay, another at Longreach and another at Mundubbera," Ms Hughes said.
"The batons have been to every single Rotary club in our district and passed through as many of our Rotarians' hands as possible.
"They've even been to Uluru and the federal parliament in Canberra. There were no strict rules, we wanted everybody to have a bit of fun with it. The more fun, and the more promotion of Rotary, the better."
The relay will end on Saturday at the district conference, where Ms Hughes and two district governors will hand over the batons to the 'future of Rotary', representatives from Rotakids, Interact and Roteract.
The batons will then be auctioned off, with all proceeds going to Rotary's charity, the Rotary Foundation.
Ms Hughes said what she got out of Rotary had changed as she'd gotten older.
"My husband was in Rotary and I decided to join as well because all my kids had left home and there was a little bit of time for me to meet new people and do new things," she said.
Eventually she was one of the members to instigate a new club at Agnes Water, the Discovery Coast Rotary Club.
"As time went on, I thought, there's more to Rotary than just going to meetings and having a lovely meal with new friends and raising a bit of money to keep in our town. So I started looking further abroad," she said.
"I've been to few countries now and helped out with Rotary projects overseas. It's been an absolute eye opener but I've loved every minute of it.
"You get the protection of being with other Rotarians, not doing it on your own and you know that you're doing a project that is needed and wanted in that country.
"They say you always get more out of something than what you put into it and when it comes to Rotary, that's true."
One of Rotary's major achievements over the years has been its involvement in the eradication of polio.
"That's been our main international project for 40 years and now there's only two countries in the world that have polio, Afghanistan and Pakistan," Ms Hughes said.
"It was actually an Australian Rotary international president, Sir Clem Renouf who decided it was time to rid the world of polio in the 1970s and we've been doing it ever since."
Asked recently what she saw Rotary doing in the next 100 years, Ms Hughes said her initial answer had been that she saw the group continuing to evolve.
"But, thinking about it, wouldn't it be good if we didn't need organisations like Rotary in 100 years time? What if the if the whole world was living in peace and harmony?"