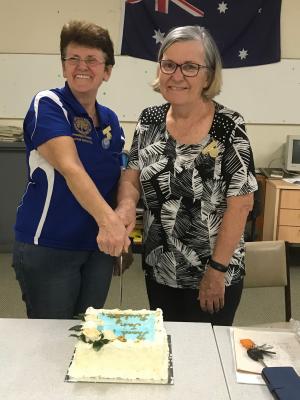 By Matthew Pearce
Two members of the Genealogical Society Gladstone District Inc have been recognised for their years of service with Life Membership Awards.
Paulette Flint and Jan Koivunen were presented with the awards on Saturday, 6 March by Maxine Brushe, on behalf of patron Gail Sellers.
Treasurer Valerie Kearney said Paulette and Jan were greatly respected by the group and the wider community.
"They have always been there for fundraising activities, cemetery walks, information sessions, setting up our room, and generally a wealth of knowledge, support, and information to anyone researching their family history," she said.
Paulette Flint joined the society in 1992 and has served many roles over the years, including almost 30 years as library monitor alongside Jan.
"I went along with a friend of mine who was the secretary at the time who said she just wanted to pick up something from the 'genie room'," she said.
"I thought, I've always wanted to do this so I joined and I started going on Wednesday nights, when my daughter was only three.
"That was when our rooms were down in Auckland Street in the old National Fitness building. It was just a little tiny room and we shared it with the gymnastics."
Paulette joked that she'd done 'every job except for treasurer' in her 29 years with the group, including president, vice-president, secretary and the publicity officer.
"I've been doing library duty more or less since I joined. We always have one or two members to open the room and help members find things," she said.
"I was secretary until last year, when I got an offer to work three days a week, including Monday, which is when the society meets.
"I didn't feel I could do justice to a role like that when I was working as it takes a huge amount of time."
Paulette's passion for family history quickly led her to branch out into other areas.
"When I first started I was researching my own family and my husband's family and that kept me occupied for a while," she said.
"Through that I became interested in helping other people and that led to my interest in preserving local history.
"Then Ann Roebuck, the editor of the Observer, asked me if the Genealogical Society wanted to write some stories for the paper."
This led to a weekly column called Down Memory Lane, about the street names of Gladstone, and 10 years later, those columns became a book, What's in a Name? The stories behind the street names of Gladstone, Queensland.
"Because I wanted to write the book and I wanted to write it well, I did a graduate diploma in Local and Applied History through University of New England," she said.
Paulette later wrote a daily column called Times Gone By, about the history of Gladstone, which continued until The Observer ceased print publication in 2020.
"It's been a fun writing about local history and I still do it through my Gladstone history page on Facebook," she said.
Jan Koivunen, who's been a member of the group since 1991 and is the current president, said she'd always been fascinated by genealogy.
"It's a side of history that you don't learn at school but it's more interesting because it's your family and to place them in historical context through the ages is fascinating," she said.
"Finding out where they went and why, especially immigrating to Australia in those times, is what interests me – the time it took and the risks that were involved.
"Some of them were quite young, 18-year-old women on their own, and I enjoy trying to get an idea of why they did the things they did and what their life was like."
Jan said she often wondered if she was a 'frustrated detective'.
"I'm not just after names and dates, I like the stories, that's what got me interested in the beginning," she said.
"Our family get-togethers always involved my father or my grandmother telling stories of their younger days and the things their parents had done.
"I got my first information off my cousins and aunties when I was only 18 and I carried that around with me for nearly 20 years saying one day I'll do it when I get time.
"Eventually I realised that the time's never going to materialise, I've just got to bite the bullet and make the time."
Jan said while things had changed since she first joined the genealogical society, there were still benefits to working together.
"When I first started you had to write letters and the internet was only in its infancy," she said.
"A lot of people think that in this day and age with the internet you don't need to be part of a group but for people like Paulette and myself, who are interested in history for history's sake, not just family history, there's a real benefit.
"There's people in our society that have been researching for years.
"If you're a member of the group you have access to all that knowledge, things you may not be able to learn about on the internet, specific ways of finding out information that they've had access to for all the decades that they've been doing research."
Jan said these mentors were a great benefit in her early years with the society.
"They were all so helpful, saying, 'You know, when I hit a brick wall this is what I did and maybe this might be helpful to you'.
"If I start talking about ancestors my husband will ask 'are these dead or alive?'. It's not really his thing.
"It's nice to have people that share that same interest, people who get excited for the things that you find, offering a willing ear to listen to your triumphs when you discover something that might have taken eight months of research.
"They're always there to cheer you on and listen."
Jan said that camaraderie and access to in-depth information was what kept her with the group.
"I'm back in the 1770s now with my research and that information isn't quite as accessible," she said.
"What's kept me coming back is the friendships and the things that we've shared together. It's wonderful to be part of an organisation like ours."
She said her Life Membership Award had come as a surprise.
"I was secretary at one stage and I've been president and vice-president, I've organised bus trips and social events, but you don't do it for the recognition, you do it because you enjoy what you're doing," she said.
"But when that recognition comes it does make you feel good."
If you'd like to join the Genealogical Society Gladstone District Inc, call Jan Koivunen on 0417 216 062 or drop in to the society's rooms at the George Young Building, Francis Ward Drive any time.