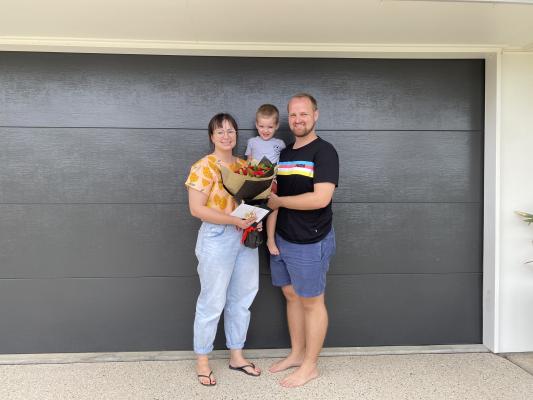 By Matthew Pearce
A little Valentine's Day pampering couldn't have come at a better time for Norman Gardens couple Kate and Matthew MacGregor.
The MacGregors are the lucky winners of CQ Today's Valentine's Day competition and have taken home a package valued at $550 including dinner for two on Valentine's Day at Coco Brew, a dozen premium roses from Tall Pines Florist and a massage for two at Skin Deep Rejuvenation Clinic.
Kate, a cancer survivor, said she hadn't known her husband Matthew had entered them in the competition.
"It was a lovely surprise and we've already booked in for the massage," she said.
Matthew's entry read: "My wife is amazing, she battled breast cancer during pregnancy with our son. In remission for two years and she inspires me every day."
Kate was diagnosed with stage 3, triple negative invasive ductal carcinoma while pregnant with son Quinn.
"I originally found two small lumps in my right breast when I was approximately 18 weeks pregnant," she said.
"I also had started lactating from the right side only – which was strange to me, but with my first pregnancy I was unsure of what was 'normal'. My GP reassured me that these were normal and both signs of blocked milk ducts."
The lumps grew and later Kate spoke with a midwife who asked if she'd requested an ultrasound to double check.
After the ultrasound, Kate got the bad news that it was breast cancer.
"The next part of my life was a blur – mainly tears, worry and a lot of testing," she said.
"The first plan was for me to have a mastectomy – right side only. I would continue the pregnancy naturally, have my baby and then start chemotherapy. We all thought this sounded like a good plan of attack so my surgery was booked and we started to prepare."
But those plans had to change. Kate was told by her oncologist that if she was to continue her pregnancy without chemotherapy, there was a strong chance my cancer would spread.
"I would be stage 4 (metastatic breast cancer) and I would have less than five years to live," she said.
"He urged me to consider having my baby early, at 32 weeks, and starting chemotherapy just a week later. So, that's what we did."
Quinn was born via c-section, weighing 1.8kg, and spent 24 hours on the C-PAP machine, but ultimately was a healthy baby.
One week after giving birth, Kate began seven months of chemotherapy, which she describes as 'brutal'.
"I was extremely nauseous, I lost all of my hair, I put on weight and spent my days laying in bed," she said.
A month after chemotherapy she had a double mastectomy and once healed from the surgery began six weeks of radiation therapy.
"By the end of the six weeks I had third degree burns, my skin was bleeding and tearing with every movement. I still have a redness on the skin that received treatment and the skin on my right arm is numb," she said.
But more than two years after her diagnosis Kate can happily say she's in remission.
"My husband and I are hoping to have another baby soon. We certainly look at life differently now and take every opportunity to celebrate the small things," she said.
Thanks to Tall Pines Florist, Coco Brew and Skin Deep Rejuvenation for the Valentine's Day competition prize.