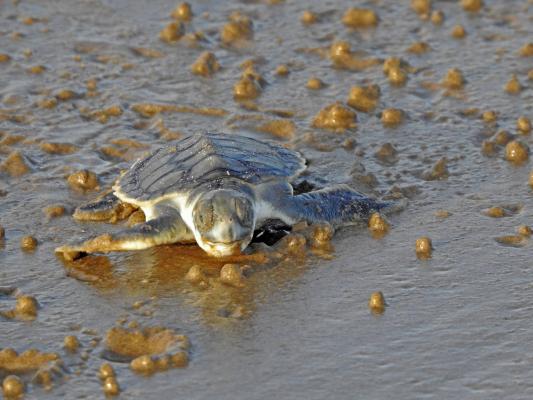 By Matthew Pearce
Volunteers from Team Turtle CQ helped 44 confused turtle hatchlings make their way safely to the ocean at Farnborough Beach last weekend.
Volunteer Paul 'PK Mitch' Mitchell said the tiny flatback turtles had been distracted by the lights and were actually heading to the road when they found them on Sunday, February 14.
"When turtles hatch, they look out and can see the light on the horizon, but because they were on the back side of the sand dune they couldn't see the horizon light," he said.
"The first thing they saw was the lights to the houses on the hill and that's the way they went, thinking that was the ocean."
While the Capricorn Coast is a common nesting ground for turtles, Mr Mitchell said there hadn't been any eggs laid at Farnborough Beach for a couple of years.
"We'd been keeping an eye on the nest and when one of the volunteers saw that they'd hatched she started to have a look around and started finding them in the grass," he said.
"We're coming to the end of the hatching season, on our part of the coast there's just three nests to go.
"We've all been pretty busy, the volunteers have been doing a great job this season."
Mr Mitchell, who's been a volunteer for three years, said Team Turtle CQ looked after strandings and monitored nesting turtles on the Capricorn Coast.
"We'll walk the beaches looking for the mother turtle's tracks and then keep looking to see when the hatchlings hatch," he said.
All Team Turtle CQ members are given professional training and support from the Fitzroy Basin Association.