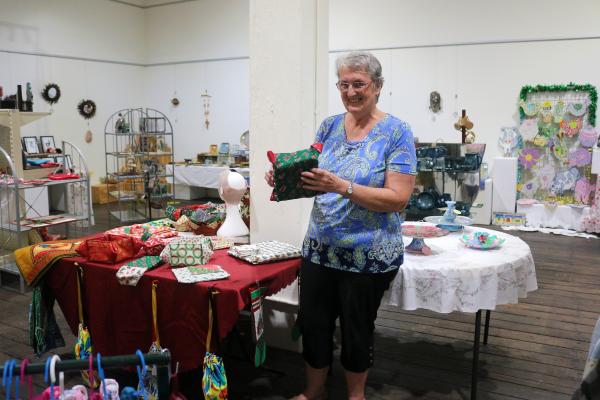 By Matthew Pearce
Reid's Gallery and Gift Shop is back for the Christmas season at Rockhampton's Walter Reid Cultural Centre.
Organiser Trish Craig said the gift shop would be open every day of the week until Christmas Eve, with arts and crafts created by the Walter Reid Cultural Centre Artists.
"Any Walter Reid tenant who has product they want to sell can can put it up for sale, but they have to be prepared to do shifts at the gift shop," she said.
"We have potters, artists, embroiderers, patchworkers, people who do mosiacing and more.
"We try to make the gifts as 'Christmasy' as possible, and as affordable as possible, because a lot of people just need inexpensive gifts for, say, their neighbour or co-worker.
"We stay open until Christmas Eve because in the past we've had people rushing in at the last minute the day before Christmas who haven't bought any presents."
Community groups at the Walter Reid Cultural Centre include Capricornia Potters, Rockhampton Embroiderers' Guild, Patch-Happy Circle, CQ Contemporary Artists, Fibre Arts, Rockhampton Lapidary Club, Little Theatre and more.
Trish encouraged people to drop in to the gift shop at the corner of East and Derby streets, which she said was often forgotten by shoppers despite the quality of the work.
"We're still in the CBD, but it's a bit difficult to get people to come that extra block and a half," she said.
The Walter Reid Cultural Centre Artists hosted a pop-up shop at the Kern Arcade earlier in the year, with $1000 being donated to charity, split between the Royal Flying Doctor Service and and Bat Care Capricornia.
The Walter Reid Cultural Centre was built in 1899. Originally used as a warehouse and a merchant store, the building was also used during the Second World World War as part of the manufacturing of goods for the war effort.
The Rockhampton Regional Council now owns the building which is used by Rockhampton's artists and crafts persons.
Reid's Gallery and Gift Shop is open from 10am to 3pm, seven days a week, until Christmas Eve.