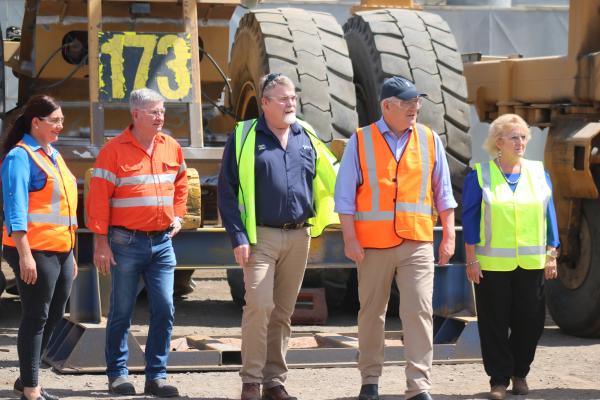 By Matthew Pearce
Central Queensland will be a leading player in Australia's post-Covid recovery, according to Prime Minister Scott Morrison.
Speaking at SMW Group at Parkhurst on Wednesday, Mr Morrison said he was in town to explain what the federal budget meant for Central Queensland, including $23 million promised for a stadium at Rocky Sports Club.
"That's not just an important piece of sporting infrastructure, it's an important piece of community infrastructure, cultural infrastructure, tourism infrastructure," he said.
"It'll be important to the region alone for the jobs it creates on top of last year's budget which had so much invested in Central Queensland like the Ring Road and all of the many other projects that have been important to our future here."
Praising the budget, Mr Morrison said it had made Australians more upbeat after the hard times brought on by Covid-19.
"Figures that have come out today show that there are more optimists than pessimists in Australia about our economy and that is a key turning point and that is exactly what our budget has been designed to do," he said.
"When the Treasurer, Josh Frydenberg, gave the budget address a week ago, he stood up and he gave our nation confidence in its future – that we are going to come out of this Covid-19 recession, that we have an economic plan, and we're seeing it in businesses here whether it's Central Queensland or all around the county."
The prime minister said he felt the budget was the budget Australia needed, giving businesses greater job certainty.
"Look at all the machinery that you see here (at SMW Group), all the upgrades that needed to be done, all the new technology, the new equipment, new vehicles, all of these immediate expenses … the ability to write off Covid losses this year over previous tax paid is giving businesses the confidence to go out to invest and hire," he said.
"Our JobMaker hiring credit, our initiative for apprenticeships and training under JobTrainer, are all designed to get people moving again and into jobs ensuring they have the skills to be part of the great Australian recovery from this Covid-19 recession."
Mr Morrison praised SMW Group and its chief executive officer Jack Trenaman for their dedication to youth employment.
"I know Jack wants young Australians to start out their working life in jobs. Jack gets them here on the end of a broom when they're still at school and when they leave school they come here and get a traineeship or apprenticeship, they understand how important a job is," he said.
"I want young Australians to understand that, I want them to leave school and go into jobs and be job ready and job hungry.
"If you start your working life on the dole then you're more likely to stay on it."
He thanked Member for Capricornia Michelle Landry for her "great advocacy and her great leadership" within the Coalition.
"We're focused on the positive, we're focused on giving Australians the opportunity to move ahead, particularly here in Central Queensland," he said.