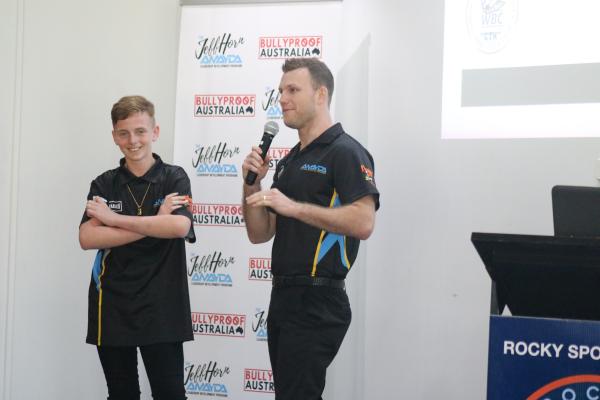 By Liam Emerton
Former WBO Welterweight champion and Australian icon Jeff Horn was full of praise for a local Central Queensland kid on Saturday.
Gladstone's Charlie 'The Hammer' Hall is already a WBC anti-bullying ambassador and has been a cornerstone for WBC's anti-bullying campaigns.
Mr Horn and Charlie have met several times and arrived together at the Rocky Sports Club on Saturday for a bullying prevention program run by AMAYDA and BullyProof Australia.
The two have been on tour throughout Queensland recently and Mr Horn said it was Charlie has been a great inspiration to many people.
"Charlie is an extraordinary kid," said Mr Horn.
"I've seen the change in him recently.
"He was confident before but he has a lot more confidence now.
"The boxing he's been doing has been great for his health.
"He's lost some weight, he's in great shape, he was even showing me his muscles before.
"He's just a great ambassador for us.
"And he's just a great kid as well, he deserves all the respect in the world."
Charlie was terrific on stage, talking about his own personal experiences with bullying and giving the audience a first-person perspective of how terrible bullying is.
Charlie, who is diagnosed with autism, was flown out to the United States of America recently to receive a WBC belt for his courageous efforts.
Local One Nation candidate Torrin O'Brien has a strong relationship with Charlie despite only meeting him a month ago and had high praise for his parents Stella and Tony.
"I went down and had lunch with him and his parents and they were just so genuine," Mr O'Brien said.
"I got to know Charlie there and it's very clear that he is a genuine intelligent guy and I felt like a better person just speaking to him for a while.
"His passion is so real and when you hear his story that he's autistic and was bullied quite brutally so they put him into boxing.
"The president of WBC Mexico flew him over there and presented him with the Real Deal belt, he was then flown over to Thailand to meet the president over there.
"He dedicates his life to flying around and promoting anti-bullying which is all supported by his parents – it's just unreal."
Mr O'Brien is a passionate combat sports teacher and said he had been working with Charlie recently.
"Charlie is doing a bit of training with me now," he said.
"He's mixing it up with my Muay-Thai fighters and we're having a lot of fun along the way.
"It's just the start of a lot of things we're going to do together."