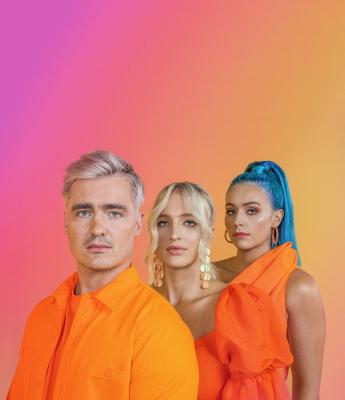 By Matthew Pearce
For George Sheppard, from the Brisbane indie pop band Sheppard, his "amazing gig" at the AFL grand final still feels like a dream.
"I look back at it and I just have to pinch myself, it was just the most incredible experience, being on stage just flew by for us," he said.
"We had an amazing time and it was so nice to get out there and perform a real show to real people after all this time."
George said the grand final was the band's biggest ever gig, with 30,000 people in the stands and millions more watching around the world.
"The last show that we performed at live was back in February, just before the lockdown in Adelaide," he said.
"We've done livestream shows here and there but this was the first time we'd been able to actually perform to a real crowd for months and it was 30,000 people. We went from zero to the biggest gig of our lives."
Next, the Sheppard siblings head to Gladstone's Blain Park on 20-21 November as the headline act of Air Beats, an open-air concert presented by Gladstone Regional Council.
With purpose built 'beat boxes' keeping groups socially distant from other attendees, George said it would be another unique event for the band.
"We've played in Gladstone before, on the tour for our second album, and had a great time," he said.
"We didn't get to see much of Gladstone then but the crowd was one of the most energetic we've had around Australia so we're very much looking forward to coming back and performing another show for them."
Sheppard's third album, Kaleidoscope Eyes, will be released on February 26 and George says it's his favourite album they've done so far.
"We've been doing one single a month this year and have actually been able to spend the majority of the year focused on the album with no distractions from gigs," he said.
George said the whole album had been recorded at the band's family home and produced mostly by themselves.
"Band member Jason Bovino is a producer and because we had the studio at home it was just a really creatively freeing experience for us," he said.
"The songs that are on this album I think are among the best we've ever written and I really want to get it out there and have people hear it."
While next year's plans are still up in the air due to 'old mate Covid', George said he hoped there would be a national tour in support of the album.
One the family front, sister Amy is getting married after being proposed to by her long-time partner Lachlan Stuart.
Joining Sheppard at Air Beats will be Hayley Marsten, Chris Bax Trio, Jason O'Hara, Nathan Bedford, Jack & Jacinta, Smiley n Wayno Duo, Thomo and Wal Duo and Chris Schofield.
Tickets for the event are available at https://gladstoneentertainment.com/.