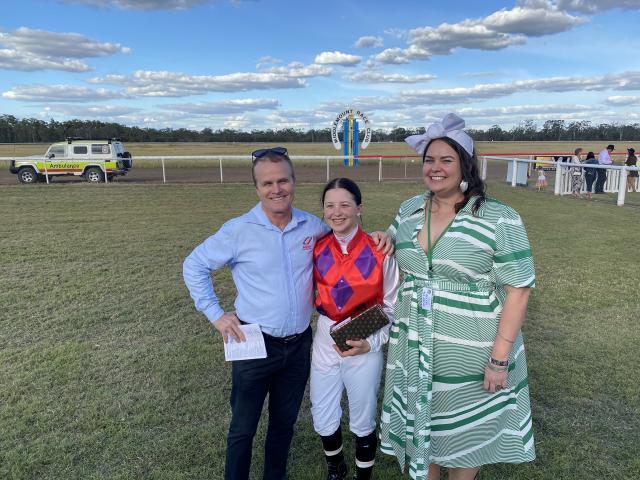 By Liam Emerton
Hi readers and doesn't time fly?
It certainly does but that is a bit of a concern as I am beginning to answer my own questions. Anyhow it just seems like yesterday that I was writing last week's column.
As I stated in that essay there is racing all over the place at present – Townsville Cup meeting and Cleveland Bay Handicap, today (Saturday, August 6) while locally the racing is at Yeppoon.
Rockhampton racing is being represented by Marway and Master Jamie in the $100,000 Cleveland Bay Handicap (1300m).
If you have the chance, get yourselves down to Keppel Park racecourse Yeppoon but remember that tickets have to be purchased online for entry to the racecourse.
I know the club is not expecting a huge crown on Saturday as the race day clashes with a big festival at Emu Park and the annual Rocky Swap Day as well.
Could be a good opportunity to have a good day out at Keppel Park with plenty of room to move about.
Best bet is to go on to the Yeppoon Turf Club Facebook page to access how to go about purchasing admission tickets.
After Yeppoon races comes the TAB race meeting on the grass track at Pioneer Park at Emerald on Monday.
The Emerald Jockey Club has only a limited number of TAB race days and the indications are that Monday's will be well stocked with horses, trainers and jockeys.
A dozen or so entries have been made by trainers from Rockhampton with the bulk coming from the Central Western stables.
It should be a very good day's racing.
Hot on the heels of Emerald on Monday the show goes on at Mackay on Tuesday where 30 Rocky neddies are nominated to race.
One horse from that Rockhampton contingent is the Nick Walsh trained Deep Breath engaged in the Class 6 Plate (1560m).
Gee his form is very strong having won five races in succession at Rockhampton (4) and Mackay (1) in recent months.
Listen to this for form.
Deep Breath followed those wins with a third in the Tattersalls Cup (1600m) behind Master Jamie here and a fine fourth behind that great horse again in the $150,000 Rockhampton Cup (1600m).
If that form can't win a Class 6 Plate (1560m) at Mackay well I will give up tipping.
What makes me so confident about Deep Breath is that he romped home winning a Callaghan Park barrier trial over 900 metres on the grass last Tuesday morning.
Brisbane jockey Brad Pengelly stayed in the area overnight after riding the Adrian Coome trained winner Executive Stress at the RJC meeting on Monday.
Brad just had the two rides at the trial session also winning on the Nick Walsh trained stablemate of Deep Breath in Just Super.
Brad has ridden Deep Breath twice in races and my early guess is that he will be the pilot at Mackay on Monday.
Readers, the odds may be skinny about Deep Breath but for mine he should win.
Talking of winners delighted to announce the Rockhampton racing awards winners for the 2021-22 racing season which concluded last weekend.
Callaghan Park trainer Clinton Taylor won the Rockhampton trainers premiership with 20 winners for the season which given the competition was no mean feat.
With so many young trainers now settled in Rockhampton and an ever-increasing list of visiting horses competing from southern stables, Clinton's tally was highly commendable.
I will go on record as saying that Clinton is one of the busiest trainers to ever have worked work out of Rockhampton.
Rarely a week goes by that Clinton is not on the road floating his horses all over the place to race.
Apart from his 20 Callaghan Park winners he prepared more than 30 at other Queensland centres during last season.
Ryan Wiggins with 32 Callaghan Park winners won the Rockhampton Jockey's Premiership narrowly from Justin Stanley.
A FIFO jockey from Brisbane, Ryan never really misses riding at mid-week TAB race meetings at Callaghan Park.
At the first day of the new season there last Monday he rode a winning double on the Ricky Vale trained duo of Matador and Knight's Sword.
Ricky Vale won the Rockhampton trainers' premiership for the 2020/21 season.
Teenage Rockhampton apprentice Tahlia Fenlon won the junior riders (apprentice) premiership in Rockhampton with 21 winners which was truly a magnificent effort.
Tahlia gave away four months start to the senior jockeys last season as she only had her first Rockhampton ride on December 4, 2021 after her provincial licence came about a week or so earlier.
It does make you wonder doesn't it where Tahlia would have landed on the overall jockey's table had seen been riding at Callaghan Park from when the season opened on August 1 last year?
Tahlia also won the Mackay jockeys and apprentice premiership last season which demonstrates her talent even further.
She did similar I believe at Emerald and Thangool as well as winning the RQ country apprentice premiership.
It must be remembered that Tahlia only commenced race riding in May 2021.
At her first race rides at Emerald on May 22, Tahlia rode two second placegetters but just a week later at Gladstone turned that around with a winning double.
Since that never to be forgotten day at Gladstone, Tahlia Fenlon has ridden another 78 winners which is nothing short of amazing.
Congratulations Tahlia and you have a rewarding and exciting career ahead of you that's for sure.
Tahlia is the daughter of proud parents Tony and Jodie Fenlon.
Tony of course was my predecessor as CEO at Callaghan Park.
Rockhampton has always been a breeding ground for successful female apprentice jockeys with recent examples being the names such as the late Carly-Mae Pye, Zoe White and Ellie Smith coming into my mind.
From all report there is a new "kid on the block" arriving, in Rockhampton teenager Brooke Johnson.
Apprenticed to Benny Crear, that teenager (19) has ridden five winners during her first fortnight of race riding. |
One at Thangool, two at Emerald and another double at Middlemount races last Saturday.
Great to see young hard-working women really making inroads into Central Queensland and Rockhampton racing.
On behalf of my committee at the Rockhampton Jockey Club the heartiest of congratulations to all winners in the Rockhampton premierships with more category victors to be announced as well.
Don't forget we get back racing at Callaghan Park again on Thursday, August 18.
As well keep in mind Gladstone Cup races at Ferguson Park down there on Saturday, August 13.
As Bugs Bunny would say on Looney Tunes – "That's all folks".
See where a horse called Looney Tunes started at Middlemount races last Saturday. That's another story for another day.
Until next Saturday, yours in racing Ian Mill.