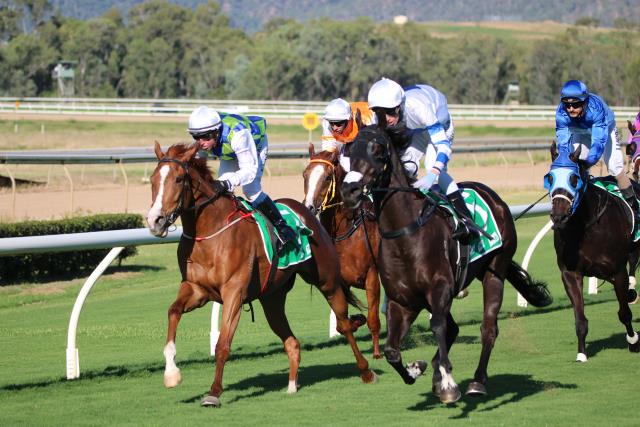 Rockhampton Jockey Club Report with Ian Mill
Hello there again everyone and hope you are getting back to normality following the Christmas and New Year celebrations.
At the racecourse we have some celebrations coming up after the conclusion of the club's TAB races on Thursday, 27 January.
Commencing at 6pm in the Members Lounge which overlooks the parade yard, the RJC is hosting the premiership winners' awards for the 2020-21 racing season.
The club felt this was an ideal time for the presentation evening as it would allow for optimum attendance.
The premier Rockhampton Jockey Club trainer for the last season was local Ricky Vale who produced 19 winners which is quite an achievement given the competitive strength of Rocky racing.
Ricky could have quite easily been accredited with training more winners as he had 29 placegetters in races at Callaghan Park last season and with an ounce of luck quite a few of those could have won.
This is Ricky's first premiership win at Callaghan Park and it is a significant achievement.
Ricky's late father David Vale was also a well-known local horse trainer who enjoyed considerable success at the track as well as around the Capricornia circuit.
The premier jockey title for 2020-21 went to Brisbane's Ryan Wiggins one of an increasing number of fly-in riders that work the Rockhampton and northern provincial TAB midweek racing circuit.
Wiggins 39, won the RJC title per medium of 34 winners at Callaghan Park while landing 29 placegetters.
It was part of a remarkable 2020-21 season for the Hendra, Brisbane based jockey who finished third on the overall Queensland jockey's premiership with 103.5 winners.
Ryan was in excellent form again at the RJC TAB races last Tuesday when he combined with Sunshine Coast trainer Garnett Taylor with a winning double courtesy of Bold Halo and Back When.
Since moving to Queensland just under 10 years ago, Wiggins has enjoyed considerable success none bigger than winning the GROUP 1 BTC Cup on the Noel Mayfield Smith trained Famous Seamu in 2014.
A popular identity, his work ethics are second to none and Ryan cannot be begrudged of any success that comes his way.
For example, after riding in Rocky on Tuesday he stayed over to ride for Ricky Vale in barrier trials at Callaghan Park on Wednesday morning.
Garnett Taylor, who I just mentioned won two races at Callaghan Park last Tuesday won the award for having the best winning strike rate for a trainer during the 2020-21 season.
Rarely when Garnett dispatches horses north from his Corbould Park base to Callaghan Park does it not result in a winning result.
As keen racing followers would be aware Garnett was the premiership winning trainer at Callaghan Park before relocating to Caloundra some years back.
The leading Rockhampton Jockey Club apprentice for last season was Elyce Smith who I suppose we could say retired prematurely to become a school teacher in the Central Highlands.
Elyce has to be admired for following her dreams but there is no doubting she was a real find as a jockey.
I noticed her back at Callaghan Park just a week or so ago helping out her father and brother the trainers Fred and Tom Smith with on the ground duties.
Callaghan Park trainer Lyle Wright prepared the Horse of the Year for the 2020-21 season in Mystery Element.
All award winners will be presented with their trophies at the presentation function at which a cash bar will be in operation and light refreshments served.
The event will get underway at 6pm.
Our club's Operations Manager Kelly Suli is also arranging for a fund-raising auction of racing memorabilia to take place during the evening.
"We have some very significant pieces of racing memorabilia that will go up for auction on the night. These will include a signed set of racing silks worn by multiple Melbourne Cup winning jockey Kerrin McEvoy when he rode in the 2019 Cup", Kelly said.
She said all proceeds from the auction would go towards assisting Callaghan Park trainer Craig Russell and his family.
Craig underwent multiple life changing complex surgery in Brisbane some months ago which required him to give up his profession.
Kelly is in the process of drafting a comprehensive list of items which will go under the hammer and she believes the auction will stimulate considerable interest for those attending.
So, there you have it – Thursday evening January 27 at Callaghan Park for the premiership presentations.
All welcome and would be fitting to attract a large rollup.
I was particularly delighted to see local trainer Jim Lewis back in the Callaghan Park winners' list on Tuesday with Commander's Watch.
Jim only maintains one or two horses in training at Callaghan Park but he has long been a stalwart of Rockhampton racing.
It seems January is the lucky month for Jim.
Jim produced his Pierro 6YO gelding Commander's Watch to win last Tuesday's $20K BM 55 Handicap (1600m) which was quite a feat given the horse was backing-up.
On the previous Friday at Mackay the gelding had also been successful which brought about a wonderful five days windfall for Jim.
The only other horse Jim Lewis has in training is Navarre and it provided him with his previous winner at Callaghan Park on 13 January, 2021.
Well done Jim and sincerely hope Commander's Watch keeps up the change of luck for you.
In last week's column I was telling you that graduates from Rockhampton's very own Capricornia Yearling Sales were punching well above their weight.
Well, that pleasing trend has continued.
At the Mackay TAB races last Friday week the Kevin Miller trained Spill The Beans galloper Bean Deadly won a QTIS 3YO Handicap over the distance of 1200m.
In the process Bean Deadly took its prizemoney earnings up over the $50,000 mark.
To be precise $53,650 which is fabulous considering the gelding was passed in at the 2020 CYS by breeder Lance Franklin.
Then at Callaghan Park just last Tuesday, the owners of Better Than Ready filly Glen Isla Miler struck the jackpot when she won on debut in a QTIS 2YO Class 1 (1050m).
Glen Isla Miler fetched $20,000 at last year's CYS but on Tuesday earned $23,750 which of course included the brilliant QTIS Fillies bonus.
Raced by Ron and Val Beak and their grandson Jesse, Glen Isla Miler is trained by Fred Smith and was one of two winners ridden by Tahlia Fenlon on the afternoon.
If you were curious about the name as I was there is a simple explanation which Val Beak explained.
"The filly is named after a property that Jesse and his father own which is located up on the road to the Stanage Bay. We were running out of thoughts for a name as we made application to name three horses the day, we sent hers in. Glen Isla Miler was the last one we put in and it came up", Val explained.
Incidentally, the same trio of owners raced the only other starter in the two-horse field race last Tuesday.
Their Heroic Valour filly Valtino finished second.
Not hard to imagine how Valtino was named given that Val Beak submitted the names for registration.
It is believed the last time a two-horse field assembled at Callaghan Park was in the early eighties on the old sand track when jockeys Grant Scott and Wally Welburn took part.
Grant rode Sir Arthur and said Wally's horse nosed him near the finishing line.
Wally can't remember the horse's name but maybe a reader will do so and notify me,
Don't forget we race again at Callaghan Park next Thursday, 20 January.
Until then – Yours in Racing Ian Mill.