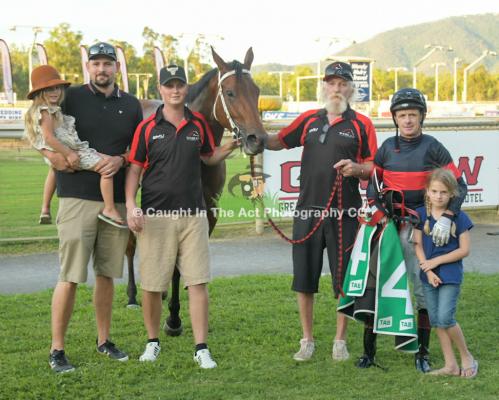 By Rockhampton Jockey Club CEO Ian Mill
Hello everyone, nice to be talking racing with you again.
Many readers have commented on how much they value our Rockhampton Jockey Club Facebook page and I am elated to hear that.
I can't stress enough about the advantage of reading the site regularly to keep up to date with the latest developments at Callaghan Park.
These of course include the club's big promotion for the two upcoming Christmas race days.
The first of these comes about on Saturday, December 4 – yes that is correct it is a Saturday race date.
Kelly Suli and the team have already announced a number of promotions for the day so log on to the site and get the news and make your bookings.
Our annual Kids Family Day at The Park occurs in co-ordination with the TAB race day on Friday, December 17.
Numerous promotions are in the stages of being finalised with an emphasis on the kids to enjoy themselves.
I'll be announcing these in the upcoming columns but as they say the early bird catches the worm so please log on to the Facebook site of the RJC.
The club still has some dates available for Christmas Parties at Callaghan Park where every occasion is catered for.
So, you've got the tip – get on to the Facebook page or contact the club on 49.374000.
They say the only "certainty" in horse racing is its ''uncertainty'' and results from our RJC race meeting at Callaghan Park last Friday certainly back that theory.
Favourites went down like tenpins with only two – Ollie's Stand ($2.00) and Address Unknown ($1.85) arriving home successfully on the nine-race card.
Speaking of Address Unknown isn't it cleverly named?
Address Unknown is a three-years-old filly sired by Dissident from the Elusive City mare Return To Sender.
Mature readers (I think that is a nice way to put it) will recall the Elvis Presley hit song of 1962 named Return To Sender.
Elvis featured the song in his film Girls, Girls Girls.
The words went like this:
I gave a letter to the postman.
He put it in his sack.
Bright and early the next morning he brought my letter back.
She wrote upon it,
Return to sender.
Address Unknown.
Anyhow the Jared Wehlow trained Address Unknown is a promising filly as she took out the Class 1 (1200m) last Friday week in exciting fashion.
That followed a close second to above average Bluindi at Callaghan Park after a Yeppoon Maiden win.
I'll give you some good mail (excuse the pun) follow Address Unknown.
Back to the subject at hand about "certainty" if ever a horse looked one on November 5 it was the Kerrod Smyth trained Mocial Chief ($1.30) in the Class 6 (1200m).
Mocial Chief had won his previous two Rockhampton starts for trainer Kerrod Smyth by as far as six lengths little wonder he started at odds suggesting he was unbeatable.
Turns out he was as the Peter Fleming trained Sizzlepel, the $10.00 outsider of the four-horse field beat him by a nose.
So, if ever you are given a tip by somebody saying "such and such is a certainty" – no it is not as in racing there is only once certainly and that is its uncertainty.
Sizzlepel proved that beyond any doubt.
Incidentally, at the previous RJC TAB meeting on October 28 six of the seven race favourites won with the other race won by True Blu Tango at $3.60.
While numerically speaking fields were small for the two heats of the 2YO Breeders Plate (1050m) last Friday, they certainly didn't lack tremendous interest.
Nanango trainer Glenn Richardson and his jockey wife Hannah, combined to win the $50.5K QTIS Fillies division with racy Princess Marian ($3.10).
A daughter of ever conquering stallion Better Than Ready from the Red Dazzler mare Miss Bam, she scored 3.75 lengths win from Tom Button trained Olympic Motto ($8.00).
Runner-up Olympic Motto was sold for just $5K at the Capricornia Yearling Sales in Rockhampton last April and connections earned $9600 for her second placing.
The daughter of well bred Redoute's Choice sire Altius was bred and sold by Susan Peddle from Dululu where Altius stands at stud.
The biggest tip doing the rounds on the day was the Graeme Green trained first starter and recent trial winner Bright and Ready,
Backers of the $2.70 favourite would have been gutted when it bucked during the early part of the race and lost all chance.
However, the fact that Bright and Ready got back into her stride and managed to beat one runner to the post after losing many, many lengths suggest she would have probably won only for her indiscretion.
Stewards have sent Bright and Ready off to the barrier trials for redemption but if you backed her last Friday back-up again at her next start.
Sunshine Coast trainer and former premiership Rocky mentor Tom Button atoned taking out the colts and geldings Breeders Plate.
Tom won with Cocobrew Express, a son of Spill The Beans so he too is quaintly named.
As a matter of fact, he is part owned by Rockhampton's Robin Adams who is part of the team running the business Coco Brew and soon another drive-through coffee outlet to be named Coco Brew Express.
It was a good training effort by Tom Button as Coco Brew Express (the horse) had finished third in Brisbane over 1200 metres just six days earlier.
Button has a great record in the Breeders Plate as Coco Brew Express gave him his fourth win in the Breeders.
Tom had previously won with Ruby Georgie (2017) and Miss Lot Won and Irish Ring Kicker in both divisions in 2019.
Button has 20 horses in work at his main stable in Caloundra and another 10 at Townsville.
Geographically, his stables are ideally placed to target races anywhere along the entire coast of Queensland.
Another young trainer going places is Rockhampton's Clinton Taylor.
Clinton has been enjoying a grand start to the new racing season but things didn't completely turn out to plan last Friday.
Mind you the stable scored an impressive win with newcomer Dawson Diamond in the Dick Sullivan Memorial Maiden Handicap (1200m).
Dawson Diamond is the latest of the dynasty of "Dawson" horses, being sired by Rich Enuff from the excellent producing mare Gold Coast Girl herself by Arena.
Like Gold Coast Girl, her daughter Dawson Diamond is raced by her owners from the Callide Valley area in Stuart Nobbs, Ron Byriel, John Howard and Clive Long all keen racing owners.
Gold Coast Girl was trained at one stage of her career by Matthew Tremble at Callaghan Park and the mare won the 2012 Rocky Tattersall's Cup (1600m).
Her other offspring all raced by her owners were the good winner and runner-up in the 2019 Queensland Oakes (2200m) in Dawson Diva.
Clinton Taylor also trains the multiple winning daughter of Gold Coast Girl in Dawson Delight (x Real Saga) for Clive Long.
Anyhow, back to last Friday and Clinton Taylor almost made it a double when his new arrival Big Jake (a first start winner for the stable at Gladstone recently) was beaten narrowly by Aerial Combat ($21.00) in the Class 3 (1050m).
That winner was a welcome change of luck for the John Wigginton stable and good to see.
The Taylor stable's gelded son of Heroic Valour in Two Stone Lighter disappointed in finishing last in his heat of the Breeder's Plate as $1.90 favourite.
He is much better than that and no doubt will improve on that effort.
Talk racing again next Saturday so take care everyone and lucky punting.