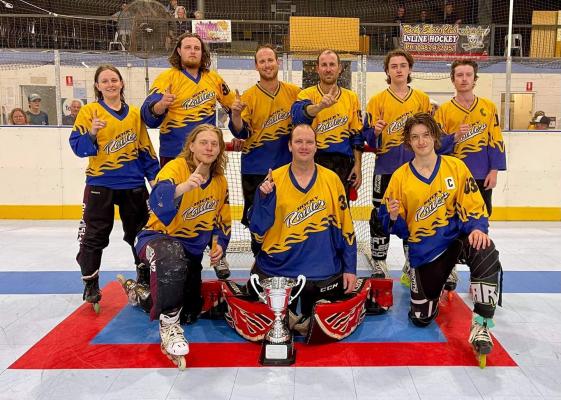 Last weekend weekend the Rocky Skate Club held an Inline Hockey Tournament at the Rockhampton Showgrounds. Players from Rockhampton, Brisbane, Mackay and Cairns congregated for two full days of games. It was the first tournament held by the club in over 6 years and one well worth the wait. The next generation of Inline Hockey stars with some players as young as six and seven years old got the chance to participate in their first ever tournament while the Senior A team, King Raiders, a mix of Rockhampton and Brisbane players, showed their skills off bringing home the win in the Sunday afternoon finals in a fast paced and exciting game against the Puckers with a score of 5 to 1.
The final results for the weekend being:
10 and under
1st – Redbacks
2nd – Raiders
13 and under
1st – Drop Bears
2nd – Crocs
3rd – Kangaroos
4th – Redbacks
16 and under
1st – Men in Black
2nd – Stick Magnets
3rd – Misfits
4th – Redbacks
Senior B
1st – Redbacks
2nd – Cyclones
3rd – Hawaii Five Holes
Senior A
1st – King Raiders
2nd – Puckers
3rd – 2OLD4THIS
4th – Russian Roulette
You can check out the Rocky Skate Club – Inline Hockey Facebook page for some of the action from the weekend, including videos of most games.
If you're interested in giving Inline Hockey a try, contact the Rocky Skate Club on 0487 472 951.
Friday night public skating run by the club on their rink at the Rockhampton Showgrounds will recommence Oct 22.