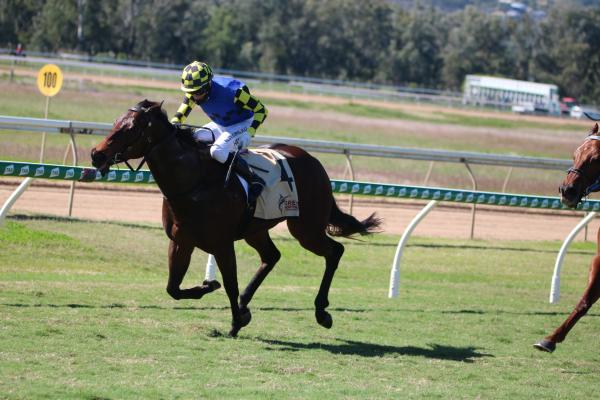 By Rockhampton Jockey Club CEO Tony Fenlon
G'day this is Tony.
I have always been a believer in following horses when they head back south after they have raced at the Rocky Carnival.
I can't just put my finger on it but for some reason, over the years they always seem to improve and benefit from the trip north.
Veteran horsemen and trainers have long held the belief that travelling horses has many benefits.
The saying "beware of the travelling horse" comes to mind.
I suppose it is the same for humans, if you travel away, you usually reek the benefits of the experience.
Anyhow, having raised those points a few horses fit that category at Brisbane's Doomben races this coming Saturday, July 24.
First and foremost is the Rockhampton Cup winner Regal Stage.
Much has been written about this $1.8 million yearling purchase trained by Sydney's Gai Waterhouse and Adrian Bott.
What hasn't been written is that Regal Stage is a full brother to the retired multiple GR 1 winning racehorse Lankan Rupee.
That son of Redoute's Choice and the Stravinsky mare Estelle Collection was a star of his era about six years ago collecting over $4.1 million in prize money.
Little wonder little brother Regal Stage cost $1.8 million as a yearling.
Anyhow, I see where Regal Stage has been entered for a very suitable BM 85 (1600m) at Doomben on Saturday and handicapped on 59.5kg.
Regal Stage looked good in winning the Rocky Cup second-up and will be improved by the effort fitness wise.
He certainly has been a traveller as from his Randwick training base he has wandered all over the countryside collecting Cup races.
Firstly, the Snake Gully Cup at Gundagai and then the Mudgee Cup.
Later he lobbed in Brisbane before floating it north to Rocky.
I reckon he will be very hard to beat at Doomben on Saturday.
Leading Brisbane trainer Tony Gollan brought his well-performed mare Really Discreet north to Rockhampton for the $100K Newmarket Handicap (1300m) just over 10 days ago.
Really Discreet put in a game effort to finish a handy fourth in the feature Rockhampton Jockey Club sprint.
I see where Tony has Really Discreet set to race in a suitable Fillies and Mares Cl 6 (1350m) on Saturday's Doomben card. I think she is really well placed and I am being far from discreet in tipping Really Discreet to win the race.
Our local lass Better Reflection trained at Callaghan Park by John "Wiggo" Wigginton is also nominated for the same race as Really Discreet, which is unfortunate from my perspective.
By that I means, I will have to make a choice and I like both the mares.
The second-up run from Better Reflection at this Sunshine Coast on a soft track on July 11 was excellent.
Brad Stewart had her ideally placed close to the fence after leaving a very wide gate in the $105K Provincial Sprint Final (1200m).
The effort of Better Reflection to finish just 1.7 lengths behind Derulo and end up fifth of 13 points to her being ready to win again. Better Reflection is in a pretty hot field again on Saturday but is certainly worth an each-way wager should she draw well.
So, there I have handed out two for quinella players or exotic backers – Really Discreet and Better Reflection.
The other horse who fits the north back to south mould on Saturday at Doomben is the Tom Bourke Sunshine Coast trained Rocky Carnival winner Better Than Groovy.
Better Than Groovy will be at big odds in the C & G Class 6 (1350m) but it's worth a tote ticket.
As is said you have got to be in it to win it.
Good Luck.
XXXXXXXXXXXXXXXXXXXXXX
The Northern Winter Racing Carnival heads to Mackay on Saturday for the $150K Mackay Cup (2000m).
Well over 30 horses trained on the Rockhampton Jockey club's Callaghan Park racecourse have been nominated for the eight-race card.
While not a local but Brisbane trained by Peter and Will Hulbert, the highly talented Hail Manhattan runner-up in the Rocky Cup looks well placed at Mackay.
I thought the Rocky Magic Millions Guineas winner Namazu would win again in Mackay's Whitsunday Guineas.
Another local in Dawson Delight looks placed to win again in a 2000 metres race up there on Saturday.
In one race at Mackay – the Class 6 Plate (1100m) some eight of the 13 entrants are trained in Rocky.
Anyhow, I wish the Mackay Turf Club all the best for Saturday's big race meeting there.
Plenty of racing coming up in Capricornia.
My club – the Rockhampton Jockey Club race again at Callaghan Park on Tuesday, August 3.
That meeting is preceded by the annual Middlemount Cup race meeting on Saturday, July 31.
It's always a massive day out there at Middlemount and this year is no different with about $60,000 prize money being put up.
As well, in a means to attract jockeys, the Middlemount Club is paying all jockeys an additional $80 per race ride on the five-race program.
This means each ride they take and runs the jocks will get about $300 each.
That's a big incentive as country race clubs battle to fill the alarming void in jockeying ranks.
Furthermore, a $50 rebate is paid to trainers of all horses competing in each race that finish back out of the prizemoney – in other words behind fourth placing.
Saturday, 7 August features the very popular Yeppoon Turf Club races at Keppel Park racecourse.
The following Saturday come 14 August , the Gladstone Turf Club will run the Gladstone Cup meeting.
Then on Thursday, 19 August it is back to Rocky and Callaghan Park again.
The annual Dingo races come up on Saturday 21 August and that meeting is a big day and unique in many ways.,
It is followed by the Bluff Cup races on 28 Saturday August,
Then on the last day of August on Tuesday 31, we race again at Callaghan Park.
By the way, major track refurbishments and maintenance will take place on the Callaghan Park course proper during September with no meetings to be staged in Rockhampton.
The only race day scheduled was for Tuesday, 14 September and that meeting has been transferred to Keppel Park, Yeppoon.
Until next week this is Tony.