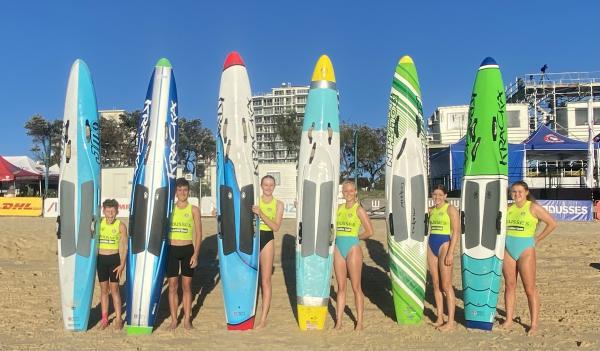 By Liam Emerton
Our local legend lifesavers from Emu Park had a great time on the water this weekend when they took on the 2021 Australian Surf Life Saving Championships.
The Aussies – as they're more affectionately known – provided the space for our surf life savers to battle against top-tier opposition.
Last season the competition was cancelled due to the pandemic so it was great for our local clubs to get out and embrace the elite once again.
The Aussies are split into three categories, the Youth Aussies – for those 14 and 15 years old, the Senior Aussies – for 17-19 year old age groups as well as Open competition, and the Masters Aussies – for over 35s.
The Emu Park Club had six young stars in the Youth Aussies with Zavier Cooper, Caden Parsons, Renee Schluter, Paige Jones, Calli McRae and Danielle Clark travelling to Maroochydore for the competition.
"The whole lot of them did really well," said junior and senior surf sports coordinator Michelle McRae.
"They all made a semi or top 20 for at least one event.
"The four girls, Renee, Dani, Calli and Paige went in the Cameron Relay and they made top 20 in that one.
"Calli and Renee made the quarters in the under-15 board rescue which came down from 110 teams or so in their age group.
"Paige then made top 12 for the flags event and then Paige, Renee and the two boys did a mixed beach relay and they made the quarters for that.
"They all did really well. All clubs across Australia can compete in Aussies and they said that the Aussie titles is just second in size as a multi-style event to the Commonwealth Games."
The Seniors and Opens competition saw three more Parkies join the fray with terrific results.
Brittany Hooton, Chloe Hooton and Grier McRae all made an impact in the individual events with Chloe making the semi final in the Board event, missing out on the final by one place, as Brittany made a semi final as well.
The three then combined to make the top 10 of the board relay for under-19 girls.
"They were all really excited for how well they did," said McRae.
"Similar to the state titles, when they were rubbing shoulders with some of the professionals in some of their races, they were really thankful and enjoying themselves.
"Now we're looking forward to the next season."
Emu Park then had a lone competitor in the Masters competition – that being Dave McRae who had a ball across two events – finishing in two solid positions.
With the peak of the surf life saving competition now finished, the team at Emu Park will start to wind up the season with a legends day in two week's time.