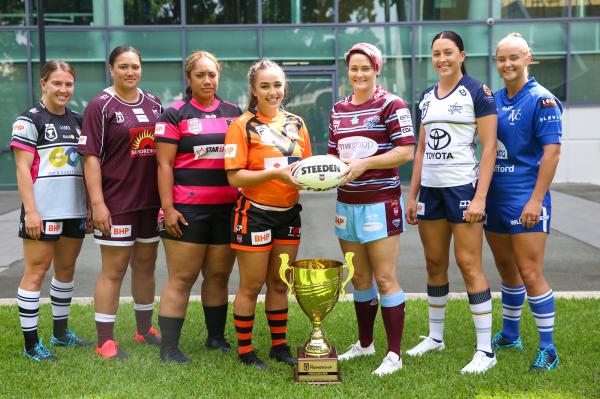 By Liam Emerton
There's plenty of Rockhampton Leagues Club Central Queensland Capras action to follow this weekend including the return of our BHP Premiership women's squad.
Our women haven't played in the competition since their inaugural game back on 15 March 2020 when they walked away with a comfortable win over the Brisbane Tigers.
The Capras will have eight returning players from that starting 13 that defeated the Tigers when it faces the West Brisbane Panthers this weekend.
The squad's spine of fullback Keysha Baker, captain and five-eight Chelsea Baker, halfback Reeghyn Beardmore and hooker Mackenzie Reid have crucially stayed together, giving the ladies a strong structure in a new squad.
The other returning players include winger Bree Spreadborough, centre Jessica Powell, lock Kailah Rogers and second-rower turned prop Gemma Brennan – all of which will add consistency to the team ahead of the round-one clash.
The Panthers also won their first match last year before facing the Covid rugby league cancellation.
The match should be interesting with both teams wanting to start the 2021 season the way they did the 2020 season.
In round three of the Intrust Super Cup, the Capras' contest will take place in Redcliffe when it faces the Redcliffe Dolphins at Moreton Daily Stadium.
Both sides are coming off a week break, having the Easter weekend off to recover and replan for the remainder of the season.
The Capras have had two solid performances to begin the season, particularly in the first half of both matches where the side held a strong lead at half time.
However the story of the early season seems that Central Queensland are unable to continue that strong performance into the second half.
The side dropped both leads in the two matches this season, picking up a loss and a draw in rounds one and two.
The Dolphins on the other hand have had two incredibly tight contests, winning and losing by two points in their opening matches respectively.
In round one the side defeated the Mackay Cutters 30-28, bouncing back after conceding the first try of the contest.
In round two however, the side was pinned back by the Norths Devils which scored three quick tries leaving the Dolphins with a tough task to recover – which it almost did, falling just two points short.
With Redcliffe proving it can both be stunned in the first half but recover against a notoriously tough opponent, the Capras will need to find their feet, particularly in the second half.
The CQ Capras' team lists for the Intrust Super Cup is as follows:
Starting 13
1 – Blake Moore
2 – Jed Simbiken
3 – Larson Dale-Doyle
4 – Nathan Bassani
5 – Maika Tudravu
6 – Radean Robinson
7 – Jack Madden
8 – Mckenzie Yei
9 – Trey Brown
10 – Tyler Szepanowski
11 – Nixon Putt
12 – Jesse Jennings
13 – Lachlan Hubner
INTERCHANGE:
14 – Jake Maizen
15 – Aaron Teroi
16 – Charles Shepherd
17 – Jarred Dash