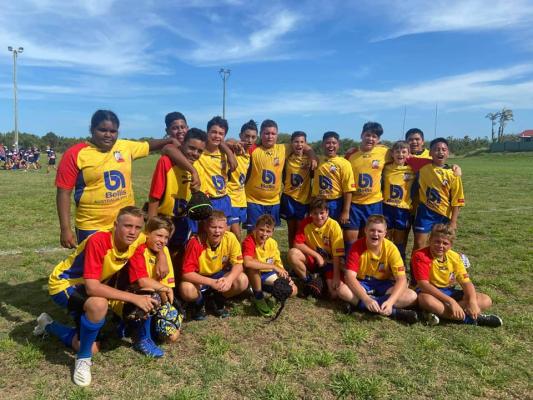 By Liam Emerton
Central Queensland's best junior rugby stars took to Mackay on the weekend when the sugar capital hosted the Nyrie Contor Cup.
Rockhampton's Colts and Brothers rugby clubs, Yeppoon's Cap Coast Crocs, the Gladstone Goats, and the Emerald Rams took junior sides to Mackay last Saturday which hosted teams from the under-6s to the under-17s.
Central Queensland's biggest success came in the form of the Gladstone Goats under-12s, which finished the cup undefeated from four games.
Their first match was against Rugby Capricornia rivals, the Cap Coast under-12s, which was a tough and tight battle.
The Grufcs and Crocs battled hard and eventually, the Goats were able to win 20-12.
The second match of the day for the Grufcs was a less competitive contest, with the side smashing Nogoa 31-0.
Backing that performance up, Gladstone took down Mackay 36-0 in an impressive display of both offence and defence.
Their final game saw the Goats match up against the Whitsundays under-12 side.
With an undefeated tournament in mind, the Grufcs outperformed their opponents to secure a 19-5 win and the under-12 Nyrie Contor Cup championship.
Those results meant the side scored 106 points while conceding just 17 across four games – including two clean sheets.
Coach for the under-12 Goats Peter King said it was a great day and he was pleased with his side's performance.
"We managed to get four wins in the competition, and because there were no finals they tallied up the points at the end of the day," he said.
"Overall we made 106 points and only conceded 17 points and that's how we managed to take out the overall winners.
"Individually we have a lot of kids coming from a Rugby League background.
"We showed them how to play a bit of Rugby Union before but they managed to pick it up very quickly.
"They showed how good they really were.
"For us and our under-12s to win the competition, it was just really great."
There was plenty more success to come for the Grufcs on the day too, with under-16s Bronson Noble, Trevor King and Rhys Chadburn playing for the Whitsundays.
King also managed to win Best and Fairest for the entire under-16 competition, which cemented the Grufcs' successful Saturday.
There was a great alliance shown between two Central Queensland teams when Uili Lemalu battled as part of the under-14s Colts.
Some Colts under-12s also joined as part of the winning Grufcs side, which made for a great union on the day.
The Colts under-14s had a strong day with two wins, a draw and an extremely unlucky loss with Clancy Hohn winning the under-14 player of the carnival.
The Cap Coast Crocs under-10s and 12s sides had a great day out, picking up some strong wins.