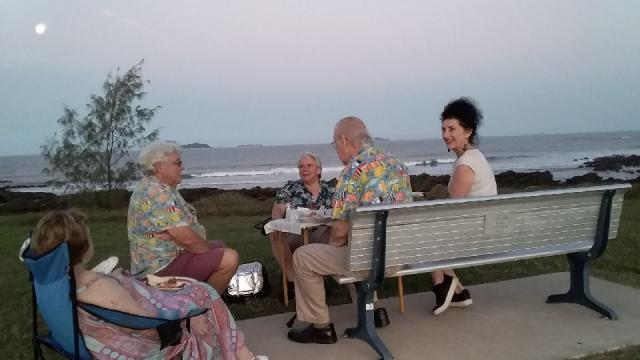 By Trish Bowman
Livingstone Shire Council have approved requests for the installation of memorial benches by the Emu Park Lions and the MG Club for installation in Yeppoon and Emu Park.
Emu Park Lions member Denis Ratcliffe said he is happy council have approved Lions request for the placement of seats to commemorate people who gave so much back to their community.
"Jackie Senior was a member of Lions for around 10 years including taking on the role of treasurer and Bev Gully (Chick) who was a member for 25 years while also volunteering for a variety of other not for profit groups across the region," Mr Ratcliffe said.
"We have five other seats installed in and around Emu Park commemorating people who were Lions members and who served their community.
"We asked Jackie and Bev's partners where they thought the seats would be best placed, Jackie's seat will be placed in Lions Park and Bev's seat will go right on the corner of Bell Park looking back at town because she was such a people person who loved to interact with others.
"We are thankful to Cr Nigel Hutton and Cr Adam Belot who raised this matter with council."
MG Club founding member Gurney Clamp said he was happy Livingstone councillors have approved the clubs request for a commemorative seat to be installed in Beaman Park.
"The seat will recognize the clubs' humble beginnings which started at Beaman Park, Yeppoon in 2008," Mr Clamp said.
"It's nice to have something there to commemorate our beginnings, we are a very social club who are mindful of promoting and supporting our local businesses.
"We have up to 50 members at any given time and support many businesses both on the Coast and in Rockhampton by meeting up at different cafes and restaurants across the region."
Livingstone Councillor Nigel Hutton said public acts of gifting to acknowledge such legends and organisations are both a beautiful way for our community to demonstrate their gratitude for the lives of these service driven individuals and leave a positive legacy in our public realm.
Acting Mayor Cr Adam Belot said elected members of council were very supportive of the installation of usable infrastructure such as benches, seats and water coolers being installed across the Livingstone Shire.
"We had been contacted by the two not for profit organisations within our community who were keen to fund public benches in memory of past members," Cr Belot said.
"The benches will be marked with a small brass plaque to respectfully honour past members who have served our community.
"They will be situated in public places for use by the whole community and visitors to the region.
"This move marks an example of good collaboration between community and our elected members.
"Council want to collaborate with community and while any infrastructure installed needs to meet Council standards and be accessible by all residents, we are always in favour of any initiatives that benefit our community."
Cr Belot said a new policy is currently being complied so future requests for public infrastructure funded by community will be directed to Council staff for approval and not require approval at Councils monthly general meetings.