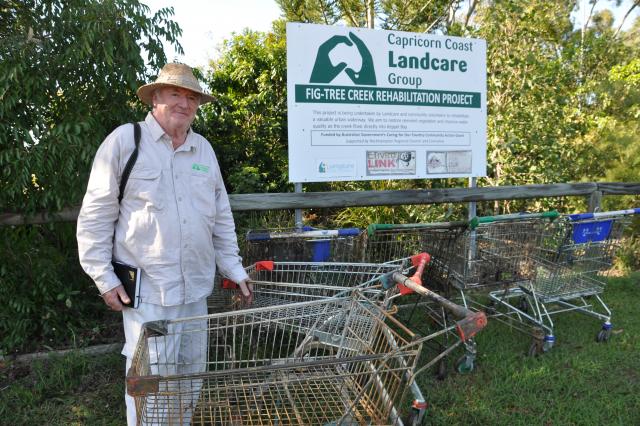 Trish Bowman
After carrying the burden of paying the cost of disposing green waste from regular clean-ups across Livingstone Shire, Capricorn Coast Landcare are set to receive more support from Council after a motion was unanimously accepted at a Livingstone Shire Council meeting on Tuesday 21 June.
Cr Nigel Hutton put a motion forward to take such actions as required to enact councils 'Community Service Obligation' which provides for the waiving of gate fees for green waste disposal by Capricorn Coast Landcare and equivalent groups with a review to occur in line with budget considerations in 22/23.
Cr Hutton asked council to provide a green waste allowance to Capricorn Coast Landcare to allow no-cost deposits of green waste at Livingstone Shire Waste Facilities collected from public spaces.
The move came after it was identified on any given week, volunteers are serving across Livingstone, helping create the lifestyle treasured by all residents and visitors to the region.
"The members of Capricorn Coast Landcare work alongside council and the community in managing and rehabilitating public sites," Cr Hutton said.
"This work generates green waste including weeds and seeds which previously could be deposited free of charge.
"An unintended consequence of the changes made by a previous majority vote of council to our green waste service has been that volunteers are now paying to deposit green waste they have collected from public spaces.
"Our community is enhanced through the efforts of the Landcare volunteers and for this alone, a green waste allowance was worthy of our consideration.
"I'm very pleased council unanimously voted to amend our support for a group of volunteers who serve our community so industriously."
Livingstone Shire waste and water portfolio holder Councillor Andrea Friend said in June 2020, she submitted a notice of motion 'that Council consider financial assistance and support for Capricorn Coast Landcare as part of its deliberations for the 2020/21 budget. Indicative funding required was $1666.00 every two months.'
"This was passed unanimously by the council table. In a follow up briefing, councillors were advised the approach, which was taken, by the officers, for the financial year 2020/21 was that funding should only be offered based on delivery of certain well-defined projects and services which are within the capacity of that organisation to deliver at a high standard," Cr Friend said.
"Three projects were funded; Great Northern Clean Up November 2020 – $1,000, Clean Up Australia Day March 2021 – $1,000 and Council support for the Fig Tree Creek Project June 2021 – $4,400.
"The Capricorn Coast Landcare Group acknowledged the support in an email from the Co-ordinator with Capricorn Coast Landcare, in June 2021.
"Council has worked in partnership with the Capricorn Coast Landcare Group to deliver many projects in the 21/22 financial year. Council staff provide technical advice, in kind staff time, and materials for projects on Council land including plants from the Nursery at no charge.
"For waste disposal, Council budgets up to $10,000 per year for community service organisations. We found this budget only covers the costs to remove waste dumped outside the local Vinnies and Salvos stores.
"Other organisations such as Capricorn Catchments also require assistance in landfill fees and recently the cost of this was approximately $1500 for their latest clean up.
"My suggestion will be to increase the budget from $10,000 per annum to $15,000 allowing the extra for other community service organisations.
"I agree that Capricorn Landcare should not have to pay for disposal of materials collected in their weekly clean-ups."
Cr Friend said the difficulty is when the materials are taken to the landfill, anyone of the many volunteers, in their personal vehicles could attend the landfill to drop off.
"The president of Landcare knows to pick up the phone and contact the councils Co-ordinator of Natural Resource Management and/or staff so they may take note of the vehicle and advise the landfill.
"This department would arrange an internal payment for the materials disposed. To date no calls have been made, however they are waiting by the phone in readiness.
"All registered not for profit groups will need to apply for a levy exemption otherwise Council will bear the State Government waste levy cost.
"Capricorn Coast Landcare Group has a current exemption which will expire on 27 October 2023, which ensures Council does not have to pay the State Government Waste Levy.
"I commend Councillor Hutton for bringing this to the table again and I am so grateful for the dedication of all of the incredible volunteers in Capricorn Coast Landcare, other organisations, and individuals across our shire."
An explanation of the exempt waste – by application process can be accessed via this link
https://www.qld.gov.au/environment/pollution/management/waste/recovery/disposal-levy/operators/levy-zone/exempt-waste