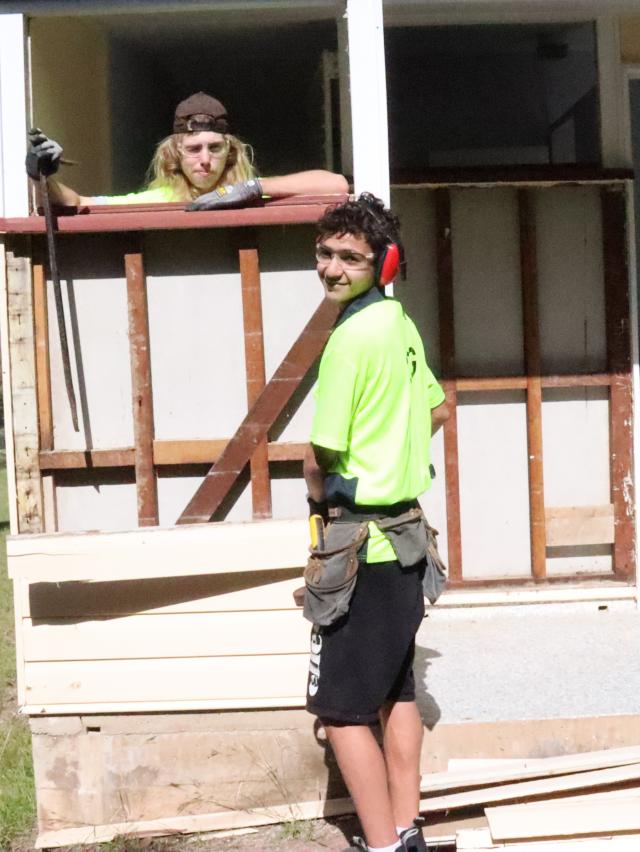 Emma McBryde
Christian Nilsson has turned his life from car theft to carpentry, and he is loving it.
The 17-year-old helping renovate a block of toilets at Old Nerimbera School under the guidance of Karl Simmons from not-for-profit organisation Capricorn Community Construction Group is a far cry from the teenager once involved in drugs and stealing.
Karl said with $25,000 in funding from Stanwell Corporation and $5000 from Queensland Police Service's Project Booyah, the organisation is able to teach Christian and Bryce Hylard, 16, more about carpentry and renovate the old toilet block to include a disabled toilet and shower.
The teenagers are two proud Project Booyah graduates excited and grateful to be getting some hands-on experience from Karl and, from time-to-time, his teenage son, Leo.
Karl said although he grew up in a stable household, he also knew what it was like to get into trouble as a teenager and he hopes the project can make a difference.
The group, overseen by Chris James, Tom James and Karl, is only beginning and has big plans to help more with other projects.
Christian, who has six sisters and two brothers, said he has a lot of respect for Karl and the QPS officers and team members from Project Booyah.
The Year 12 student plans to finish school then pursue a career as a chef or carpenter.
"I was stealing cars and… not being at home barely… and getting on drugs and doing stupid (things)," he said.
"I love (cooking)… curries, carbonaras, steak and mash."
However, Christian said he is happy he has turned his life around and is enjoying school.
"I feel a lot better in myself," he said.
The co-ordinator of Project Booyah in Rockhampton, Senior Constable Joe Ramsay, thanked Stanwell for their support and said they immediately came to the rescue with funding for showers and a disability toilet when the organisation were told Project Booyah hoped to build them.
"They can't be more helpful," Sen Const Ramsay said.
"They're one of those great organisations."