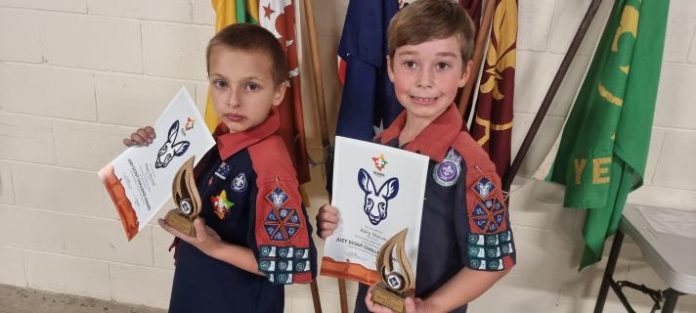 Trish Bowman
Yeppoon Joey Scouts Riley Watson and Angus Mitchell have achieved their Joey Challenge Awards after two years of ticking all the boxes required to reach the milestone all before, they turned eight years old.
To achieve the challenge journey award Angus and Riley had to complete three milestones.
They had to compete in a minimum of 60 activities across four core areas: community, creative, personal growth and outdoor activities.
They engaged in Anzac Day marches, camps, scavenger hunts, creating Yeppoon Lions Pinefest and Yeppoon Show displays, rock climbing and caving.
The boys assisted with a minimum of nine activities across the four core areas including
Clean Up Australia days, food bank assistance and national tree planting day.
They led a minimum of seven activities across the four core areas including Chinese New Year, cycling, BP and flag care.
In all, the extraordinary young lads completed 76 activities over two years of hard work and effort.
They earnt six special interest area badges (merit badges) in environment, adventure, sport, arts and literature, creating a better world, growth and development, STEM and innovation.
They completed level 1 in outdoor adventure skills in bushcraft, bushwalking and camping where they were required to safely strike a match, collect firewood, learn to tie knots, learn how to use a compass, camp packing and cooking snacks on a campfire.
Both have also achieved merits for cycling, boating, aquatics, vertical and paddling level 1.
They also had to complete a climb to the peak of a mountain.
Angus and Riley planned and led a three-hour adventurous journey which required completing risk assessments, compiling a packing list, compass and map preparation then completing an 8km hike up Kemp Hill and onto Double Head Lookout via Kemp Beach.
Yeppoon Scouts Assistant Group Leader and mother to Riley, Amber Watson said she is extremely proud of both boys to have achieved such a milestone in their young lives.
"All the activities they have engaged in will enhance their life and communication skills," Amber said.
"Riley and Angus are great mates who work together well, supporting each other with their individual strengths and weaknesses.
"The boys should be very happy with their achievements as they both had to work extra hard to achieve the award."
Angus's mother Kendyl Gorham said Angus is super proud of himself for achieving the highest award for his level.
"Angus took his trophy to school to show all his friends, he can't help taking it out of the box and looking at it," Kendyl said.
"I was a scout's leader, and my husband was a scout, so it is wonderful to see Angus following our lead.
"Scouts offer so much for young boy's development.
"When Angus first began, he was very shy, scouts helped his confidence and brought him out of his shell not to mention all the very important life skills he has learnt.
"The entire experience has been really good for him and of course as his mum, I am very pleased with his achievements."
Joey scouts are 5–8-year-olds.
Both boys joined Joey Scout in 2020 and have taken 2 years to achieve the requirements for the Joey Challenge Award.