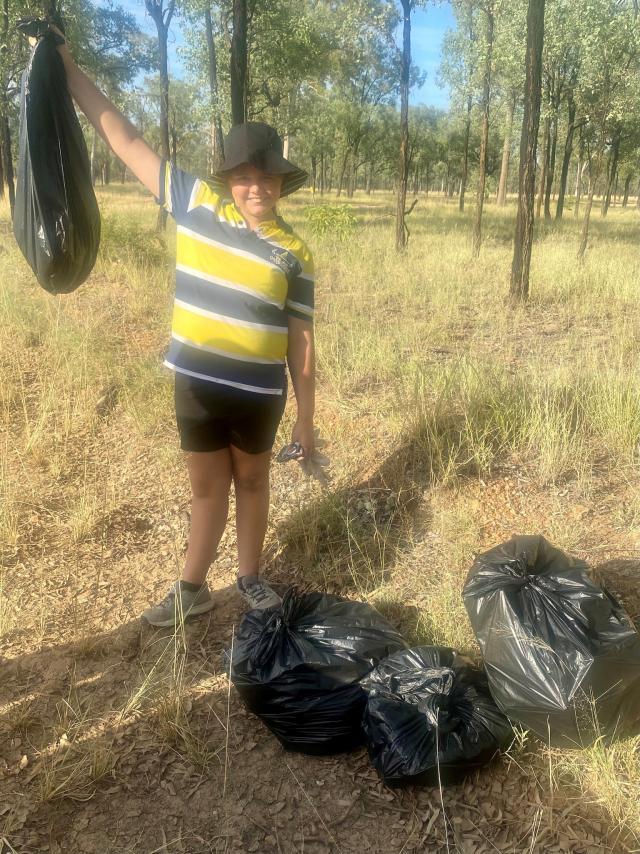 Volunteers play an important role in keeping our communities humming, and without their generosity and kindness many organisations and events would ground to a halt.
While these worker bees stay behind the scenes, the spotlight often remains elsewhere.
Today, we turn the spotlight on some of the many wonderful volunteers who thanklessly give their time and energy to important causes throughout the Central Highlands.
Read below to find out why they do what they do and what it means to them.
Volunteer: Amber Paulson
I'm a proud Indigenous year six student at Anakie State School and a school captain. I love helping others and volunteering my time by fundraising for my school and helping in the community.
I started to volunteer a few years ago with my mum at the Sapphire markets assisting with fundraising for the year 5/6 school camp by selling raffle tickets, chocolates and lucky number boards. I have also volunteered my time over the past few years for Clean Up Australia Days in Sapphire and I love seeing my town clean and tidy, it definitely makes me feel proud.
I currently volunteer most Sundays at the Sapphire markets fundraising for my school and the P&C Association. I also assist each week with the before-school breakfast program, and I am currently working on another project in which I hope to assist the less fortunate members of my community.
I volunteer because I enjoy helping people and also helping my school and my community. It's a great feeling to see how clean my town looks after getting rid of all the rubbish on Clean Up Australia Days. I love the saying "more hands make light work" because they definitely do, and I love the warm fuzzy feeling you get in your stomach when you help others to achieve a goal or finish a project, it always inspires me to continue volunteering.
I think that volunteering is just such a kind and positive thing to do and makes me feel like a valued member of my community and that's why I love to volunteer.
To sum it up volunteering to me is gratifying.
Volunteers: Roy and Val Vesey
When we moved to Bluff in 1982 we decided to join Lions and CWA, firstly as a way of meeting new people in the community we had moved to and as we had always enjoyed assisting people. But also to try and better the place in which we lived and to have an opportunity to give back.
We used to have a lot of elderly residents living in Bluff and we were able to assist them by painting their houses, putting in ramps and paths to make it safer for them and doing renovations. It was so easy to help these people as they were always so grateful and loved having the company while we were there.
We still assist people today when we can, with doctor's visits, shopping and the like. We are also responsible for maintaining the Bluff Lions Community Hall, which is a meeting place for the community.
It is different times now, but we still enjoy helping out if we can. It is worth every effort when you know they appreciate what you have done.
One particular memory was when we built a ramp into the house of an elderly couple, he had become unable to negotiate the steps, so the ramp enabled him to get out of the house once more. The look of gratitude is still with us.
We also remodelled a bathroom for a family in Blackwater who had a severely disabled daughter, thus allowing them to wheel her wheelchair into the shower.
Another major project we undertook was to modify a bathroom and toilet and install a water lift for a man who had an accident and ended up in a wheelchair. The lift allowed him to access the upstairs area in their high-set house.
We were honoured to receive the Duaringa Shire Council Senior Citizens of the Year Award in 2003.
One word that describes volunteering: rewarding.