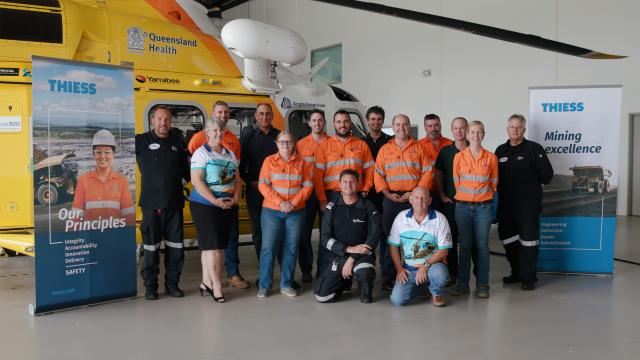 RACQ CapRescue is celebrating National Volunteer Week (NVW) after a huge year of volunteering in 2021.
The StepUp CapRescue Volunteer program, supported by Thiess hit a major milestone in 2021, recording its highest number of volunteer hours across a single year.
Caitlin Buttenshaw, Community Fundraising Officer for RACQ CapRescue said, "In 2021, our StepUp CapRescue volunteers donated over 1,230 hours of their time, which is our biggest year yet!"
"According to the current Volunteering Queensland wage rate, that equates to over $55,000 in value for CapRescue."
NVW is Australia's largest annual celebration of volunteering and is a chance for us to celebrate, recognise and thank volunteers for the vital work they do within our communities.
RACQ CapRescue celebrates NVW by recognising the important work of our amazing volunteers and saying thank you!
"Our volunteers continue to show an enormous amount of dedication, hard work and commitment all year round. We cannot thank them enough for their time and skills, and the enthusiasm they bring to each volunteering role," Caitlin Buttenshaw.
NVW also provides RACQ CapRescue with an opportunity to thank the naming rights partner of the StepUp CapRescue Volunteer program, Thiess.
Thiess has been a proud sponsor of the program since 2017 and continues to support the CapRescue volunteers every step of the way.
"At Thiess, our purpose is to create lasting value. Participating in community life, and supporting initiatives, like CapRescue's StepUp Volunteer program, that benefit our community is essential," said Group Manager – Community, Diversity and Inclusion, Anthea Craig.
"We're proud to continue our support of CapRescue and the StepUp program, particularly at a time when volunteerism is in great need.
"This program's success is a testament to the commitment and dedication of both the CapRescue team and its volunteers."
With StepUp CapRescue volunteers and support from Thiess, CapRescue is changing communities for the better, proving they are better together.