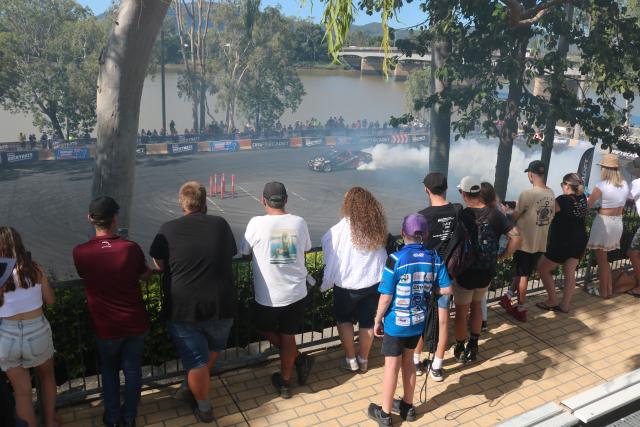 By Liam Emerton
Rockynats 02 was even better than the inaugural event and our readers have had their say on the annual car bonanza.
We asked our loyal readers what their opinions of the Easter weekend event and what their favourite parts of the weekend was.
Jenny Hilcher: The whole experience, the buzz of life in Central Qld, the wonderful visitors to our beautiful region and the awesome entrants in every event giving their time to showcase the machines of their love to highlight this amazing event, well done on every level.
Jason Roberts: The lovely custom built cars on show and shine.
Greg Bowden: Rockabilly, Mulletfest, PBR, Bands, show n shine, elite cars, drags, drifting and burnouts.
Chris Binder: Drifts and drags, great to see so many awesome cars. Thanks to the owners for sharing their pride and joys for us to see!
Bob Jane: My son winning the mullet comp for his age groups.
Katrina Sugars: DRAGS!
Maree Hutton: The Show and Shine.
Rockynats 02 saw 52,060 patrons walk through the gates, which was a welcome injection to the region's economy.
Advance Rockhampton Executive Manager, Greg Bowden, said patron and entrant numbers weren't the only records that Rockynats 02 broke in 2022, with ticket sales and street parade participants also reaching record highs.
"We sold a total of 19,000 tickets this year, which shows that support for the event is continuing to gain momentum and attracting more and more traction among motorsport enthusiasts each year," Mr Bowden said.
"We also had 1152 cars and bikes participate in the CANNA Street Parade on Good Friday, making it the largest street parade of its kind to ever be held in Australia.
"It's stats like this that will help cement Rockynats and the city of Rockhampton as the place to be over the Easter long weekend for years to come."