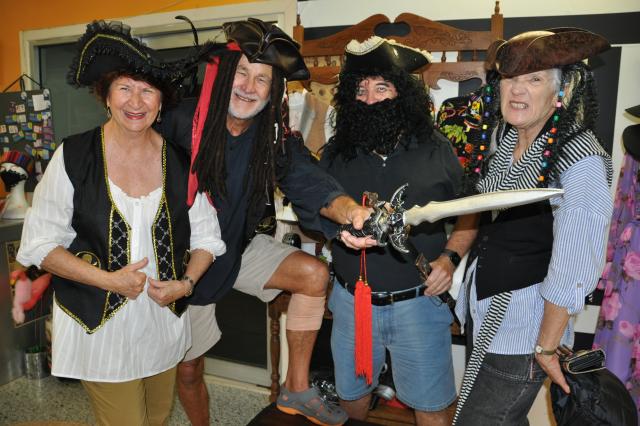 By Trish Bowman
Yeppoon Rotary Club has joined forces with the Capricornia Cruising Yacht Club to host a fun filled Pirate party afternoon to fundraise in a bid to end Polio worldwide.
Yeppoon Rotary member Professor Debbie Clayton AM said the group had put their major annual fundraiser on hold in the past few years due to COVID restriction but now they are back more passionate than ever and eager to keep the momentum going to wipe our Polio worldwide.
"Right now, there are only two countries left who still have Polio, so it is vital that we keep going with our determination to see the disease eradicated entirely," Ms Clayton said.
"Rotarians around the world contribute to this effort and the Bill and Melinda Gates Foundation contribute $2 for every $1 raised worldwide by Rotary.
"We are nearly there so we need to keep the foot on the pedal.
"Polio, like Smallpox will soon be eradicated and we are calling on the community to help."
Ms Clayton said the fundraiser will include nautical adventures and contribute directly to Rotary's goal of eradicating Polio worldwide.
There will be a variety of nautical activities including remote model yacht displays, yacht experience tasters, wooden and other boats to inspect.
Enjoy live music on the deck, cold drinks, gourmet burgers ($14) and keep an eye out for
the world's most famous pirate Blackbeard who will make a guest appearance.
The community are being asked to assist the end Polio now campaign by participating in the fundraising auction and raffles.
You could also be in the running to win prizes including the best dressed male and female pirate, best talker of 'pirate' and best pirate joke told.
End Polio now merchandising will be available for sale on the day,
Get in early to book your tickets. The $10 ticket is a direct donation to the End Polio campaign.
For more information about Polio go to https://www.endpolio.org/
Pirate Party to end Polio
• Fun filled afternoon with nautical and pirate adventures
• Raffles, best dressed pirate, remote yachts, live music, gourmet burgers, auction
• Tickets are adults $10
• Sunday May 22 from noon-5pm
• Bookings essential at https://www.trybooking.com/BYIPR
• Venue – Capricornia Cruising Yacht Club