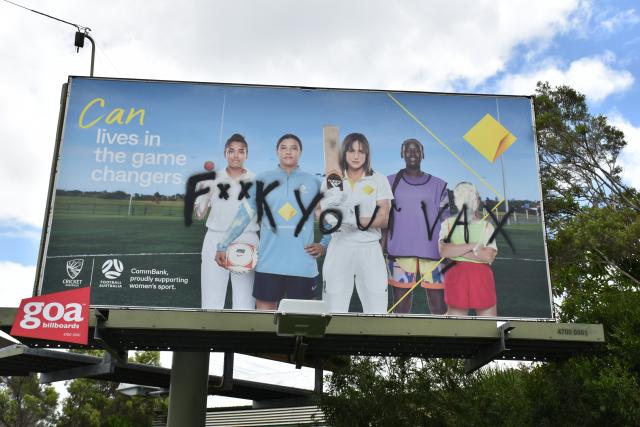 by Khrysti Balanay
Motorists travelling on Musgrave Street in North Rockhampton may have noticed graffiti on the billboards located near the Puma petrol station.
The billboards which can be seen in either direction had 'F**k your vax' written in black spray paint.
The private company GOA, has recently changed the signage after it was notified by the Rockhampton Regional Council.
"We are pleased to see the graffiti has now been removed and the signage replaced," Alicia Cutler the general manager of Community Services said.
Michelle Landry said to CQ Today that vandalism is unacceptable.
"Everyone has the right to have their voices heard but vandalism of public or private property is never acceptable."
"The best way forward is to encourage vaccinations but I also believe that someone should not lose their job based on their vaccination status."
Grant Rasmussen who was involved with the United We Stand #reclaimtheline rally last weekend said that graffiti should be condemned.
"Nobody is going to win the hearts and minds of the other side by destroying private or government property, whatever their message," he said.
"I think that should be obvious.
"The pressure that the government and big business have been putting on people has obviously begun to make people do stupid things and I think they ought to take responsibility for a situation that is of their own making."
Member for Keppel Brittany Lauga labelled the graffiti as a "crude lack of respect to the community."
"Vandalism of any kind is disappointing and deplorable," she said.
"This vandalism is downright disrespectful anti-vax stupidity.
"If you are unvaccinated you are nine times more likely to end up in the hospital and 24 times more likely to end up in ICU than fully vaccinated Queenslanders.
"Queensland continues to strive towards the 90 per cent fully vaccinated mark."
As of Friday morning, Queenslanders are at an 89 per cent fully vaccinated rate with 91.8 per cent receiving their first jab.
Over one million eligible people have had their booster shot.