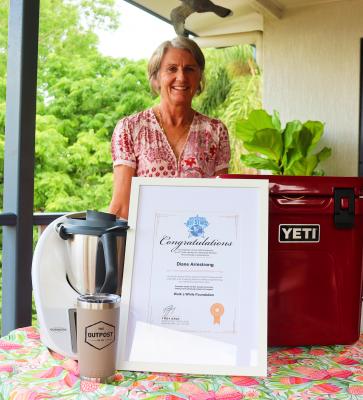 By Matthew Pearce
When Rockhampton woman Diane Armstrong first started supporting the charity Walk A While, she never thought it would lead to her appearing on an adventure travel TV series.
Diane's association with the Walk A While Foundation began in 2013 when she attended a photography workshop with the charity's founder, landscape photographer Ken Duncan, at Terrigal on the NSW Central Coast.
The foundation's primary objective is create employment opportunities for Ingenious Australians in remote communities, giving them the tools and skills needed to relieve their financial hardship.
"Over the years my husband and I have supported Walk A While where we could. Then, a few weeks ago, Ken's assistant rang me and said I should apply for the television series Adventure All Stars. I said yes, not expecting to get in, as it's way out of my comfort zone."
Twelve charity fundraisers associated with Walk A While have been selected to take part in Adventure All Stars, with the episodes screening on Channel Seven in 2022.
Described as the 'ultimate road trip', the TV series features "people undertaking an unforgettable journey to a secret location for six days of fun and adventure".
Diane won't start filming until next year and hasn't met most of her fellow participants except through an introductory Zoom call.
"I looks like a lot of fun, an adventure holiday doing things you wouldn't normally do, although I've always been a bit of an adrenaline junkie.
"I'm more nervous about the fundraising than being on TV, with the goal being raise $10,000 in 10 months, with targets of $1000 each month"
So far the targets have been met, with Diane raising the first $1000 in her first week, although things have slowed down since then.
At 6pm, Friday, 26 November, she'll host a Paint and Sip Night at 6pm at The Two Professors, with the café in William St donating the venue.
She will have her own charity stall at the Rockhampton CBD Christmas Fair on 4 December and is raffling a Thermomix and YETI gear, which will be drawn on 10 December.
Diane said she'd been drawn to Walk A While because of the rich culture and spirit of the Indigenous people of Central Australia.
"The people there seem to have a 'different drive', they're keen on moving forward themselves, learning what they need to do to support themselves and Ken Duncan has been working with them for quite a while, teaching them skills in photography and music."
Most of Diane's fundraising will go toward Walk A While's project to construct a 20-metre cross on the summit of Memory Mountain, 250km from Alice Springs, with plans for it to be a major tourism drawcard.
She said the Rockhampton community had been very supportive of her fundraising so far.
"I thought there would be challenges raising money for something that's so far way, out in Central Australia, but generally people are very happy to help when you're raising money for a good cause, wherever it is."
If you'd like to support the cause, call Diane on 0418 768 572.