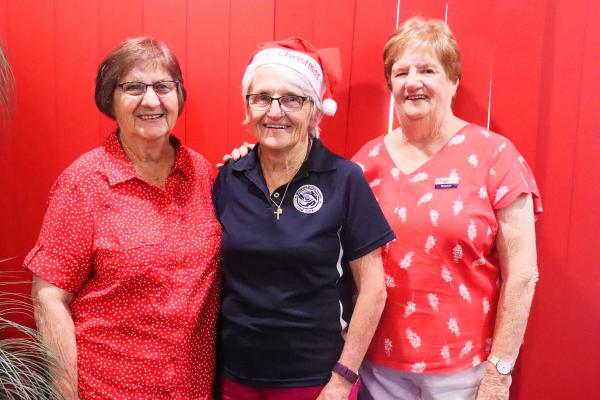 By Matthew Pearce
There's less than two months until Christmas which means it's almost time for this year's Adopt-A-Family for Christmas Appeal.
Local charities are supporting the event and everyone from individuals and families to businesses, clubs, schools and workplaces are being asked to get involved and make a family's Christmas brighter.
Volunteer Barb Cavanagh said St Vincent de Paul had already had calls about Christmas hampers back in September.
"When St Vincent de Paul first started doing Christmas hampers the idea was to give people Christmas lunch, but it's grown bigger than that," she said.
"In addition to the hampers that we do ourselves, we have the Adopt-A-Family hampers. Whether you're an individual or an agency or a business or a doctor's surgery, these are made up by you from go to whoa to go, we don't touch them."
The appeal will benefit all types of people from single men or women to a husband and wife with seven children.
"I've been doing hampers for about six years, I used to take time of work but now that I'm retired I'm a lot more involved with it," Barb said.
"It's rewarding when you hear the little ones say that 'Santa is going to come after all'."
Barb said when Vinnies had families that weren't adopted, they would make up the slack themselves, either through donations or out of their own pocket.
Vinnies will accept Adopt-A-Family requests until 26 November and you will have until 13 December to deliver the hampers to them.
Anglicare volunteer Diana Wode said she'd seen Christmas hampers reduce in size over the years.
"Once the hampers used to be really large but now they're more sensibly staged," she said.
"But you do get some people forgetting that when you're doing your hamper you need gifts to go with the food. You need to strike a balance."
She said hampers should include basics to last 'a few days', not just Christmas.
"Last year Anglicare provided hampers for around 350 people. We have a lot of single people that we support, including people with mental health concerns, people with a disability and lock-ins
"Last year we had around 160 hampers just for single people."
Shoppers can make food donations to Anglicare at the 'food cage' in front of Coles in City Centre Plaza from the first week of November, with Anglicare's Christmas wrapping service starting at City Centre Plaza in front of Target on 22 November and continuing until Christmas Eve.
With the impact of Covid, Diana said the Adopt-A-Family appeal was needed more now than ever before.
"It has been a tough year, there's a lot of people that haven't gotten work and rent is so high," she said.
"Volunteers at charities like Anglicare and St Vincent de Paul really work hard and we care about people, we want their Christmas Day to be as enjoyable as ours."
To select the family you would like to adopt, look out for the family lists in CQ Today starting in Wednesday's edition.