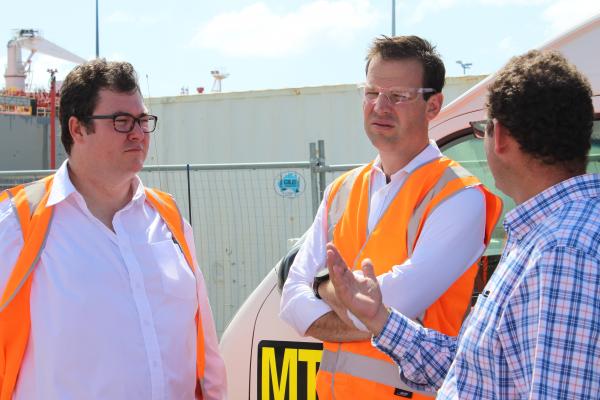 Submitted by Kerrie Sinclair, a journalist writing about climate and business news
Business Council of Australia president Tim Reed last Saturday declared that business leaders want Australia to halve yearly emissions by 2030, saying, "The purpose of our work is to move forward, not engage in endless debate about issues that the nation and the world has moved past."
But has Matt Canavan? Has Gina Rinehart? Other billionaires – Andrew Forrest, Mike Cannon-Brookes – certainly have. They're not thinking hysterically, like Mr Canavan, but historically and with strategic purpose to help secure a healthy present and future for all Australian communities.
One oil-and-gas executive looked at a recent International Energy Agency report – which called for no new oil, gas or coal extraction approvals – and said, "Well, it's a report on a piece of paper, but how do we achieve it?"
To which Twiggy Forrest, Mike Cannon-Brookes and other heroes (Elon Musk, Bill Gates and more) stepped up and said, "We've got plans. We're up for it."
The net-zero race is well underway. A day after the BCA call, Dr Forrest unfurled plans for a $1 billion-plus green hydrogen facility, near Gladstone, that will be the biggest of its kind in the world. He says it will mean thousands of jobs. He's moving forward and taking CQ with him.
But Mr Canavan's going some other way.
Mr Canavan has been on social media a lot to type his complaints about the shift to renewable energy, which is occurring globally so current and future generations can have a healthy planet and not a fireball unable to deliver enough food and water, let alone jobs.
Ms Rinehart has been at a school telling kids not to believe their teachers who are covering climate science and climate solutions.
Maybe Mr Canavan should stop typing on Twitter and call Mr Reed at the BCA who can tell him about not just the G7 group of political leaders and their decarbonisation actions, but the B7 group of business associations who have done their homework and, unlike Ms Rinehart, are heeding scientists' advice that we need a net-zero global economy as soon as we can.
In fact, the B7 has set out a to-do list for governments late with their homework on how to decarbonise fast enough to hold near 1.5 degrees Celsius of warming. Tipping its hat to the B7, the Business Council of Australia is getting to work and has good news for regional Australia.
It says the regions have much to gain because jobs will not move away from the regions, but increasingly move to it.
The net-zero economy needs regional powerhouses such as CQ for your skills, for the abundance of renewable energy, minerals and land needed to feed the world's hunger for climate-safe energy, goods and food.
These climate-safe industries mean kids won't have to move away because these are long-term industries. Responsible political leaders would, as US President Joe Biden is doing, work to ensure that unlike in the current coal and gas industries, with what some mayors have described as a 'pandemic' of casualisation, jobs are unionised, that companies are embedding ethical values. Which can happen because of greater community involvement.
For example, the BCA urges a taskforce to manage the national economy's reshaping, so regions' plans can be a result of cooperation between governments and businesses. There is scope for real teamwork, for community-business-government collaboration securing economic growth in a way that is good for people and planet.
Economist Nick Stern this month said round-the-clock renewable electricity is now cheaper than fossil fuel electricity in many places and can slash emissions while powering growth. UK annual emissions fell by 44 per cent between 1990 and 2019, while its gross domestic product rose by 78 per cent over the same period.
He said developing countries (Australia's fossil export markets) have clocked the fact that growth powered by renewable is cheaper and healthier for citizens.
The BCA's UK equivalent is the Confederation of British Industry. Its director general, Tony Danker, says decarbonisation is an economic opportunity, especially for regions because business leaders want "vibrant world-class clusters (of climate-safe industry) in every region and this means better jobs, closer to home".
Not just 'vibrant'. Try 'epic'.
As in the world's largest zinc producer, Korea Zinc, saying customers in the US and Europe are already prepared to pay a $US5-$10 dollar-a-tonne premium for green aluminium.
As a result, Daniel Kim, CEO of Korea Zinc subsidiary Ark Energy this month said Queensland-based refiner and sister company, Sun Metals, could be producing 100 per cent renewables-powered zinc in 2025 as part of "epic" plans, including green hydrogen at the SunHQ hydrogen hub being developed.
"As we look to build that out, together with the load from the green zinc, it will be epic. For us, green zinc and green industrial products, it's about ensuring we remain competitive," Kim told this month's Australia-Korea New Energy Forum. He said "SunHQ is on track to commission. As I said, huge opportunity for the region (because of) renewable energy."
Mr Canavan could speak with BCA's Mr Reed if he has questions about decarbonisation. Or Sun Metals. Or speak with BP joint-venture Lightsource BP.
BP was born out of the riches of the fortune made from mining at Mount Morgan. That mining rush left a terrible legacy of pollution behind. But we can see leaders showing they've learned and are now taking time – amid the decarbonisation race – to respect workers, our communities and the environment we rely on.
For example, Lightsource bp, a global leader in developing and managing solar energy projects, says its Wellington North solar project, alongside its Wellington solar farm, may become NSW's largest renewable energy power hub. It followed meetings with the local community. It's meant good jobs.
And it involved great care in its design, such as respecting Aboriginal heritage. This included guarding two scarred trees which give Aboriginal people an important link to their culture and their past. This is the kind of partnership we need – listening to each other, embedding care and attention to fine detail as part of the big picture.
It's 'big country' thinking, as the commissioners of the Black Summer Bushfires Inquiry called for in their final report. We are seeing more and more business and community leaders answering this call for big thinking and at the same time sensitive attention to detail.
At Stanwell Corp, chief executive officer Richard Van Breda recently said: "Over coming years, Stanwell will respond to the renewable energy needs of our large commercial and industrial customers through new low- or zero-emission generation technologies. We will also strive to play a central role in the emerging green hydrogen industry."
"The plans our host communities develop in partnership with government, local councils and industry … will ensure the long-term economic resilience of their regions. While the communities themselves must own these plans, we will engage with them throughout the planning process, playing a supporting role and sharing our plans," Mr Van Breda said.
Historian John Roberts, looking at the climate challenge amid the troubles our democracies have and are facing – as respect for truth, as the struggle to base our policies on facts and evidence has been so tested – was mostly optimistic about our future.
Prof Roberts said that humanity faced the challenge of the ice ages with far poorer resources, both intellectual and technological, than those it can deploy today against climate change.
He said, "The human being remains a reflective and tool-making animal and we are still a long way from exhausting the possibilities of that fact."
We have the ability and capacity. We just have to get on with it, or get left behind, as the BCA's Tim Reed says.
Matt Canavan is not serving current and future generations by telling us what we can't do, telling us to put our heads in the sand.
Leaders don't do that. Leaders lift your head up, show you what you've achieved and can achieve. Already, the progress made so far is remarkable in many ways; a foundation to be proud of and one upon which we can build so much more if political leaders step up, partnering with responsible business leaders.
My granddad bred racehorses near Rockhampton. And I like to think, in this decarbonisation race, that we're all a syndicate and our racehorse is called Rainbow Destiny – multiple colours because we need everyone on board (all persuasions and allegiances, be it politics, religions, cultures, industries and so on).
Our winner's stride is deeper even than the great Black Caviar, stamina exceeding that of Think Big who won the Melbourne Cup not once, but twice.
Big business is on board re decarbonisation, in many cases way out front of politicians, such as Mr Canavan.
We must get on and win this. It's not a race against each other, it's a race we run as one, so we get home on time.