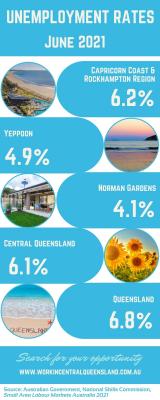 Across the Capricorn Coast and Rockhampton region, the number of job vacancies being advertised is increasing.
Following the latest release of data from the Australian Government National Skills Commission for the June quarter 2021, Capricorn Enterprise CEO Mary Carroll said, "It's clear the declining unemployment rate coincides with employers reporting high levels of job vacancies and difficulties in finding suitable people for them."
Unemployment in the region decreased to 6.2%, lower than the Queensland average of 6.8%. Across our region, unemployment numbers have dropped below 4000 for the first time since the June quarter 2019, despite a growing population.
With an estimated 64,135 persons employed or looking for work in the June quarter, the job market is becoming tighter with local employers seeking skilled applicants on the
www.workincentralqueensland.com.au platform.
Unemployment rates range from a low of 1.8% in the Glenlee – Rockyview area to 4.1% in Norman Gardens and 4.9% in Yeppoon, through to 17.7% in Mount Morgan.
Mary said, "Of the more than 700 jobs currently advertised for FREE on the
www.workincentralqueensland.com.au platform, more than half are within the Capricorn Coast and Rockhampton region, providing great opportunities for locals to secure employment locally."
While jobs are available across all industries, health care has the greatest number of positions advertised locally, followed by the education sector. Trades and services, construction, engineering and mining positions are also waiting for the right applicants, together with jobs in almost every other industry.
Mary also reminded jobseekers, "If you're applying for jobs from outside Central Queensland, visit www.livecapricorncoast.com.au to find out how great it is to live and work in our region."