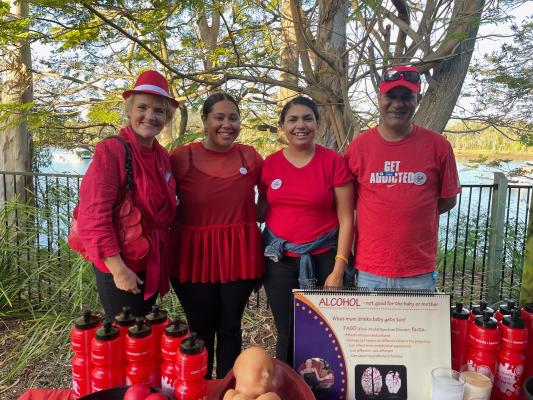 By Matthew Pearce
More than 60 people joined in CQ Youth Connect's Red Shoes Rock Walk on Thursday, 9 September, to raise awareness of the silent epidemic of Fetal Alcohol Spectrum Disorder
CQ Youth Connect leader Friederike McCartney said the message behind the International FASD Awareness Day Walk was simple.
"If you are planning a pregnancy or are pregnant absolutely no amount of alcohol is safe – this includes throughout the nine months of pregnancy and during breastfeeding," she said.
Wearing red shoes, socks or other red clothing, participants walked from Victoria Park to the Customs House in Quay St, Rockhampton.
Fetal Alcohol Spectrum Disorder (FASD) is the term used to describe the permanent, neurodevelopment impairment that may occur as a result of maternal alcohol drinking during pregnancy.
Ms McCartney said FASD had lifelong consequences for those effected, including physical effects as well as impacts on behaviour and learning.
"More children are affected each year by FASD than Autism Spectrum Disorder, Spina Bifida, Cerebral Palsy, Down Syndrome and SIDS combined," she said.
"Start the conversation. FASD is preventable, FASD is everyone's responsibility – this includes the whole of the community..
"At CQ Youth Connect, we will continue to advocate in preventing FASD, advocate for diagnosis and provide wrap-around support services for those effected."
The next FASD awareness Walk will be held in Woorabinda on 20 September.